These are some photos I put on the fridge. There are no real reason why I put them there. One of the reasons must be because it is a funny picture with funny memories to go along with it.
Like the picture on the top most right. That's a picture of my lover carrying Haziq (Haziq was about one plus year old) and also trying his best to piggy-back me. My mum took that photo. It was an SLR camera. I remembered she took such a long time trying to click. I set the SLR on autofocus and you know autofocus camera would try to find the sharpest shot possible, thus the lens would move about. Oh the agony of my lover carrying me. I ain't light you know. I remembered saying cepatlah (quick!) and laughing during the shoot.
Going anti-clockwise. The two pictures on the left are polaroids. We just bought a polaroid camera then. We were crazy taking photos of everything. Coincidentally both those photos have a picture of my mum in them. These are taken before she was diagnosed with diabetics, sometime in the year 1999. Happy photos those are.
Then there is Sya's photo when she was one plus, year 2002. I didn't put that photo in her album because the photo had too much clusters and distraction and it didn't fit well with her other photos. I trimmed off the distractions and put up the photo on the fridge instead.
That's a picture of me, ath the bottom, carrying Sya. She was about five months old (year 2001) I had the same photo enlarged and have it pasted in the album. Since there are two same photos, I put the smaller one up on the fridge for my lover to ogle.
And of course, the whole gang bang on Eid 2003. I was pregnant with Zachary then. I like the photo so I put it up. Actually I was too lazy to arrange photos in the album anymore, but I didn't want to misplace this particular one.
I just noticed there was no photos of my dad and Zachary. Hmm as with Zachary, I was already on digital camera and rarely print out any photos. Maybe I should, since there are many funny pictures of him. But it sort off take away the spontaneity of putting up photos on the fridge. To actually print out a digital photo, the photo would have to be selected over the many. Not as much impulse like the rest of these photos.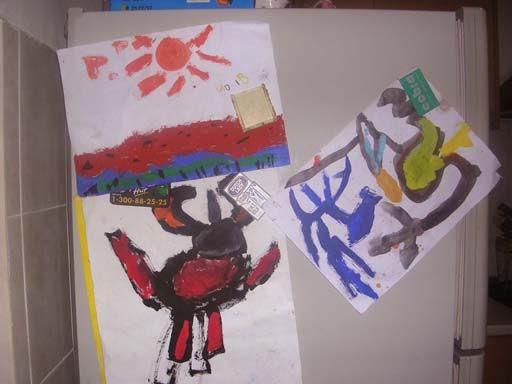 And these are Haziq's attempts on painting when he was younger. I stopped putting up any more paintings for there are just too many. Both of the would occasionally put up theirs by themselves. But Jack loves pulling them down.