And actually there is another thing that is making me smiling from ear to ear. Sya can now ride the two wheelers.
The other day I helped a friend to move house from a big villa to a nice cosy apartment. (Ini kes kena suruh keluar by the landlords). He had to give away many things and the bikes are among them. He gave us two bikes which are good enough for Haziq and Sya. Alhamdullilah. Pity his kids had to let their bikes go though. Thank you friend. Penat berleter kat lover suruh beli basikal tau...tak beli-beli..
The only problem was the bike for Sya is slightly too tall for her. But she still manage to ride and balance it even though she had numerous falls trying to keep herself from failing. It must be quite mind boggling to practice thinking to paddle, to align the handle and to remember to brake when approaching an obstacle and also to balance and not fall.
Initially I had to help her hold the bike first before she proceeded to balance . But the other day, I showed her how to go off on her own. A bit hard, because the bike is tall, but yayy she did it.
And of courselah we don't want to leave Jack alone. We bought a proper bike for him. He has never paddle you know. Never ever. Mana nak kayuh basikal selama ni? He is nearly four and he still cannot paddle. My kids are deprived.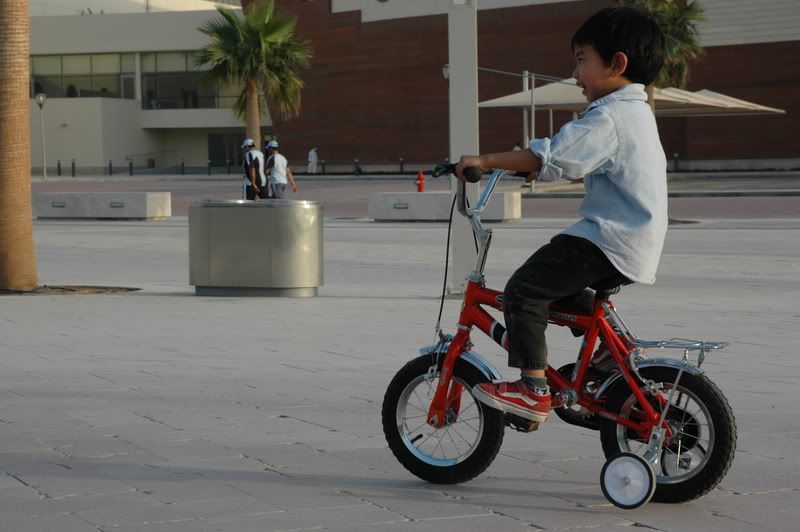 But kids learn it easily and there you go. Look at Jack happily riding his bicycle. And he can use the brakes too.
Ibu happy.
But Ibu is tired. To let them have a go on the bike is really an effort tau. I have to load all the bikes by MYSELF. Tak termasuk kalau nak bawak skateboard atau scooter. Drive all the way to Aspire and take the bikes out. Nak ikut hati, malas aje! But weather is still good. And I know I know it is good for them. Infact for me too. I had to sprint to chase Sya the other day. Rasanya turun sekilo..NOT! Ahaks.
Hip hip hooray for Sya and Jack!
For more pictures of them click
HERE
.