I have never been invited to a themed party. Sure I have been invited to birthday parties mostly at the fast food joints. Most of the birtday parties at home are you know eat-eat parties, adult food mee goreng, mee hoon. The best I had been to was with an amateur clown. The one who make puppies or swords from a balloon. Which are all a delight for me because I, myself, never done any parties for my kids. Pity my poor children.
Last weekend Batrisyia was invited to her friend's party. The boy's mum, Jana, happen to be my friend. And my my my she is a very good party planner, I must say. So forgive my jakunness, but hey I was looking forward to this 5 year old boy's party. I wanna be a five year old too.
Her theme was pirate. And as we walked in, she offered a red bandana and a bone necklace and an eye patch which Batrisyia refused.
There was a pirate ship made off carboard boards armed with canon balls which the kids would use to shoot the basketball hoop. The first game they had was to make an ocean. Jana prepared bottles each filled with blue coloured oil and vinegar. They really look like ocean and beach. The kids each filled the bottle with fake shell bits, fishes and marbles. Brilliant game!
The kids were then sent off to find treasure. They had to cross a plastic pool full of ferocious crocodiles and venomous spiders. Then they had to go through a narrow path strewn with webs and morecreepy crawlies, shot each other with water pistol, cross the plank of wood and get back in the house to find the treasure chest which was filled with party packs enough for all.
When it was time to blow candles, I had to hide my face somewhere. Zachary blew the candle for the birthday boy, much to his despair. Oh dear.
The food was so different from anywhere I had been. All healthy stuff, fruits and yoghurt, raw veges, homemade burgers, nachos and dip. What? No fried stuff?
I know Elisa and Famy and butterflutter does this. Kan? Kan? They are excellent party planners. OOhhhh I think I am having ideas already. It's just I am soo malas and so not tenacious. Tapi funnyaaaaa.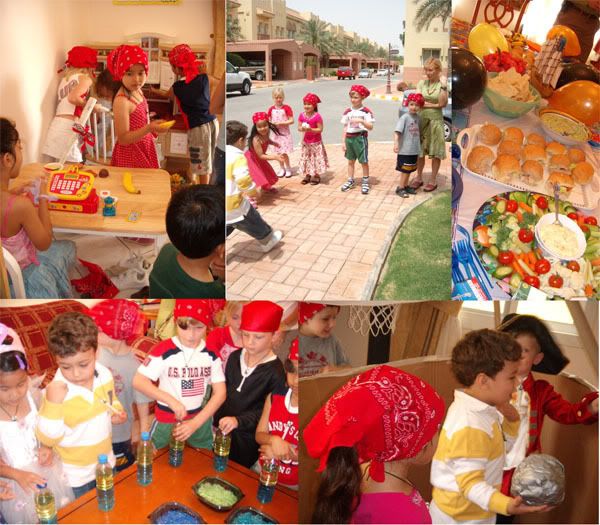 More pictures
HERE
.