Want
Surprisingly I don't have that much craving on food compared to the last holiday. I mean sure I ate some durian and rambutans but I remembered I gobbled up just too much last year. And as for food, hmm, there's nothing much that I couldn't eat back in Qtar,. I mean Kak Zah made excellent nasi dagang. And she cooked it with love and all. So comapred to the ne I bought here the other day, cit jauh panggang dari apilah. And Kak yati made roll-your-eyes nasi kerabu. Unless of course one of you guys yang masaklah. Yum yum. Yang tu gua tak tolak.
Oh but still the satay here is way better.Nak nak satay muar yang kecik manis. And I still go for kerang rebus, kerang bakar, kupang, lala, siput sedut masak lemak cili api and all that. ABC and cendol.
What I want coming back home is to get some books. Particularly Agama Islam reference book for the kids. I just cannot find it anywhere. There are activity books of course but there are only questions in them, no notes whatsoever. I need some notes, text book like. You know to guide me to teach them. Sure I can look up for notes and set soem questions but its just too much work and I err not sure whether I would be good enough. AT least a text book can be my guideline while I use other resources as well.
Can you suggest me what to buy and where. If any of you have standard 1 to 5 text books, and are not using them, I would love to purchase them. Kalau ada sila email hudishh@gmail.com. preferbally before Thursday because after that I am going to KL and thus no internet access.
AM
I am in my most lepak mode ever in Muar. Apart that I have to drive everywhere for my dad, which is really no different from what I have been doing all these while anyway. But so far no cooking at all for me. Yalah saya sekarang duduk rumah bujang. Tak kuasa baru nak start beli barang mentah. The kids played PS2 nearly all day long and I watched tv to my heart content.
We went to PD the other day tapi unfortunately, I ran out of camera battery and I also realised that I didn't bring my charger. THE HORRORS!!! So my 3d2n stay in PD has virtually no photos. Tapi adalah sikit2 ambik gambar.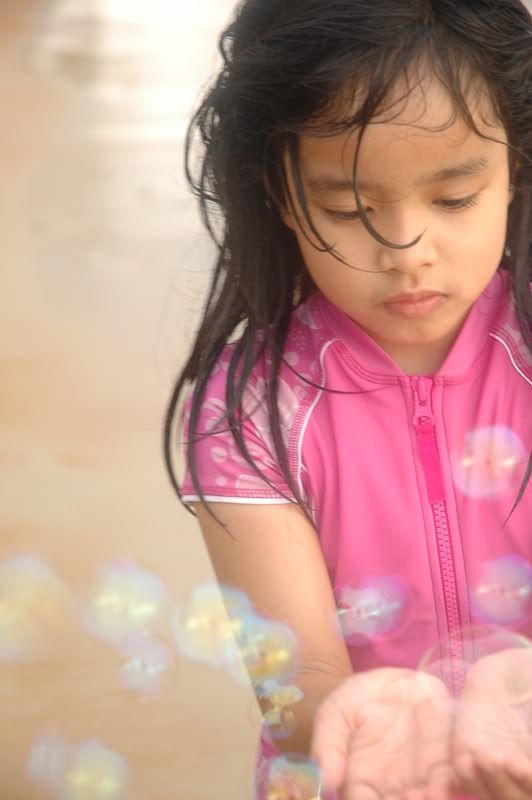 Click
HERE
for more pictures yang tak banyak sangat tu.
The trip was really good. My dad came along. I took the old road pengkalan balak and sort. Alot of stops along the way. The kids get to run like crazy and the atok get to really spent time with them. This can be an annual thing for us. Last year was gunung ledang.
I spent my time reading as well and managed to finish Ayat-ayat cinta. Mantap. There are moments that I cried reading the book. Hmm I can't remember which passage. Tapi ada satu part ni funny. Masa dia kata rakan2 dia yang ngaji dengan Sheikh tu kasihan kat dia sebab dia murid kesayangan cikgu dia. Kelakar aku rasa. ACtually banyak gak funny moment. Saya tengah menteleah kali kedua ni. I like the book becaue I can feel what the writer says about the summer heat and the winter cold. I can relate to the arabic convo (especially helped by the footnoteslah of course) and it certainly remind me of the recently married couple in Qtar hari tu. The groom pun Indonesian gak. Tak taulah ramai awek rebut dia ke tak. he he mungkin harus ku tanya sama dia. And after that I sent sms to lover in Indonesian mode.
"AKu perlu bicara sama kamu"
"Sesuatu yang sirius"
"Apakah kau sudah tiba di rumahmu?"
and after that he gelabah-gelabah open the YM and asked me what happen I said
"Apa yang kamu ribut-ribut begini"
Hahahha. entah betul ke tidak.
I want to get the other malay/ Indonesia book yang femes amat tu. Tasbih something. Apa ah tajuk dia?
I managed to get one session of facial. Sakit nak mampus! Nasib baik dia kata tak banyak yang nak di korek tapi muka banyak bekas jerawat. Huhuhu.
Will
Well I am going to shop for certain things. Like I prefer buying skirts in Malaysia because I can at least find my size i.e. my length and I prefer the design here. tak gaudy. Books. Barang penjagaan muka. Tudung. he he.. rempah ratus. Nak jumpa kawan-kawan.
And I am thinking of selling our car. Mazda Premacy year 2004 Color red mengancam. SPorty look. Good condition. Accident free (So far, Insya Allah) Any takers? Email me if interested.
mengarut betul entry ni. bebel tak henti-henti.
by the way efx is back.