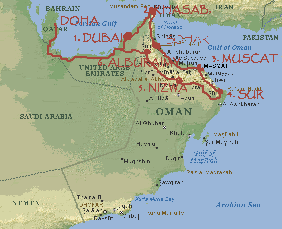 Sehari sebelum raya haji aku masih lagi kat Nizwa. Sebenarnya this is the best time to visit Nizwa kalau nak rasa feel bagaimana masyarakat tempatannya prepare untuk raya haji di sini.
Bandar Nizwa jam pack dari pagi lagi. Kebanyakannya menujuju kearah Nizwa souq. Kat situ pun ada jual souq kambinng dan lembu. Jadi ramai kesitu mungkin dengan tujuannak beli barangan dapur. Tapi tujuan paling utama ialah untuk membida kambing atau lembu bagi tujuan korban.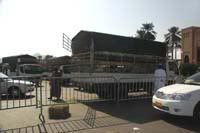 Unlike kat Malaysia, kita tempah lembu dari tuannya. Di sini semuanya mereka cari kat souq aje. Berlori-lori kambing dan lembu ada kat souq tu. Pilih aje yang mana nak.
Pastu ada antara tuan kambing/ lembu tu lelong ternakan mereka. Kecoh betul tawar menawar kat pasar tu. Biasalah orang arab kalau cakap macam nak gaduh.
Tradisi ini mereka dah buat bertahun-tahun lamanya dan masih lagi diteruskan.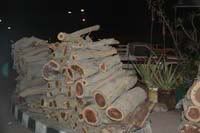 Malam sebelum raya itu pulak, aku ada kat Buraimy. Round-round town tu dan nampaklah kat souq ni orang jual kayu api banyak-banyak. Bila ditanya, ini guna untuk masak daging esok nanti. Aku dok wonder mesti susah jugak nak collect kayu api ni. Bukannya ada hutan pun kat sini.
Sambil tu aku singgah beli satu special dessert kat Oman iatu Halwa. Tak sangka pulak aku mahal. Plastik tupperware kecik tu harga 50 ringgit. Rasa? Hmmm acquired tastelah. Aku tak suka sangat. Rasa macam dodol berempah. Orang kata kat Malaysia pun ada halwa ni nama dia halwa maskat. I suppose halwa muscat lah tu.
Orang arab ni suka sembahyang raya open air. Walaupun banyak masjid keliling. Petang raya ni as we drive from Nizwa to Buraimy nampak ramai orang tengah pasang speaker segala kat open space yang mostly designated for this purpose.
Pastukan esok hari as we drive lagi from Buraimi to Sohar pulak. (dah nak balik jalan tak tentu arah), nampak banyak bangkai kambing kat tepi jalan. Tak tutup pulak tu some of them. Dahlah memang banyak lalat, makin bertambah-tambah lalat hari tu.
Pastu lori municipal datang kutip carcass tu satu-satu, masukkan dalam lori dia. Hmm lain sikit cara mereka.
Actually tak ada point aku cita ni. Cuma cita apa yang aku observe ajala.
Jalanraya sesak sehari sebelum raya haji