So i told you that I volunteered to teach the young ones among the Msian community here. I agreed to volunteer for a number of reasons even though I do worry about the conflicting of opinions that might arise. But in the end, perhaps I am that person who likes to touch and feel for herself, so I accept. And i pray that all will be good. And my experience will be beneficial for me and also for the children. And May Allah be please with these.
Anyway I am teaching akhlaq. Ok ok laugh laugh. AT first I said sungguh tak seswai I teach akhlaq. But then it is probably the easiest for me. I am teaching the young one age ranging from 6-7 years old and also the middle young one 9-11 years old.
The young ones are tooo cute, masya Allah. They looked scared at first and I tried my very best to win their hearts. Cewah macam bagus. And some of them probably after feeling more comfortable, happily showed me his ninja turtle bag. And some also have many stories to tell. Too many perhaps. And also some just like to call me but really has nothing to say. *Pening* But the girls are just adorable. Masya Allah. Bat eyelashes.
In the end, I found myself tercungap2 jugaklah handling the little ones because they need so much attention. And they are quite active too. Not all of them can read. And not all of them can write Allah and Muhammad in arabic. Insya Allah no rush.
When I thought dah cukup tercungap with the little ones, the middle young ones are even louder. Can you believe that there are 42 in the class of the age 9-11?? And more than half of them are boys? And more than half of the boys are excited little people? Sometimes the boys were so loud, I forgot there are girls in the class too.
But they are pleasant children. maybe one or two who says words yang memeranjatkan to my ears. I wonder if their parents know.
By second week not only I found some are very adorable while one seven year old had ipod stuck in his ear (which i told the boy to keep it away when I teach) listening to song I don't even know the title. I received cute hugs from the little one and I also heard the word bodoh and penampar (not directed to me though).
Aduhai Tuan Hj Bakhil, Cikgu Murni senak dada macam ni. :P
Anywaaayyy, my first lesson to all of them, irregardless of the age was,
WE LISTEN WE OBEY.
I think before I start babbling on this is the sunnah, this is how Prophet Muhammad s.a.w do or this is what he said, and also this is what Allah tells you to do, I should make them to understand (And agree) that they will always listen and they will obey to Allah's command and the Prophetic ways.
Insya Allah, if I said the Prophet eats with right hand, no one will eat steak using fork on their left hand. Same goes to all of us.
Anyway we made bookmarks as one of their first activity.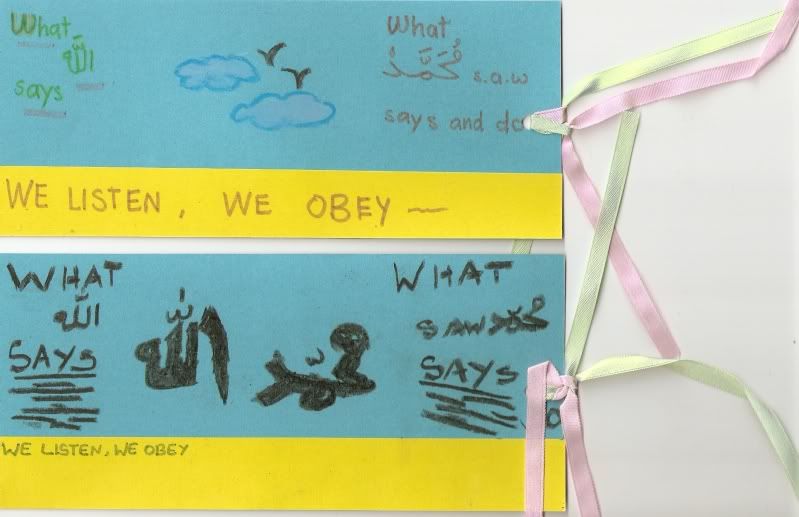 May the children have love to the deen. And may they grow up guided.