Ain't Google the best thing for research?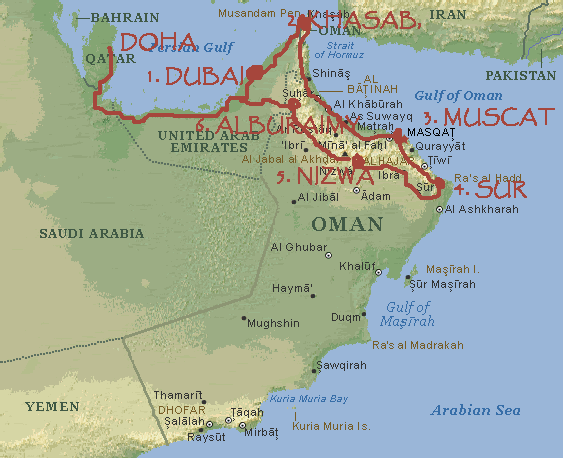 The whole Lollies clan will be taking a trip to the beautiful majestic country of Oman. We are leaving tomorrow for about two weeks. So I would probably be on hiatus for a while and will later bombard you with the boring journal (somewhat) of my travel.
Oman is vast and we couldn't cover it all especially if the time and budget is limited. So I decided to explore the east of Oman which I believe is the best region to visit during winter. Salalah, on the west side which is a region of history in nature (Prophet Job (Nabi Ayub a.s. tomb and the ruins of Queen Sheba's (Puteri Balqis)castle) will have to wait.
We'll be driving all the way from Doha. The map above is the route that I have planned for the whole trip.
On the 21st we'll drive carefully out of Doha, get into short transit into the Saudi and later into the UAE and finally make a stop at
Dubai
. I estimate the journey will take about 8 hours.
In Dubai, I am staying with Halley, Dory's friend. HIIIIIII! See you soon. I hope the kids will behave. Apparently its Dubai Sales Festival now. I am not looking for much to shop, but I will probably get some sweaters and jackets for the kids and perhaps knee-high boot for me and another good all covering shoes (its freezing here). Lover might want to get new shades (he lost them in the dunes)
Then the next day we'll move out to
Khasab, Musandam
. Musandam is an Oman state seperated from the rest of Oman by UAE. The journey will most likely take about three hours. However I am planning to make lots of stops. I heard the route is picturesque. I can't wait to snap snap snap.
We'll be staying in Khasab, Musandam for three days. Hope to catch good view of the sea and fjords.
After doses of majestic cliffs and probably dolphins we'll make a move to Muscat, the capital of Oman. The journey will take about 8 hours. We'll probably visit lots of forts, souqs, beaches and villages along the way. Will stay in
Muscat
for three days. Hope it is enough to wash our clothes and relax and get some souveniers.
Then we'll take a slow three hours drive to
Sur.
A beach famous for its turtles. This will only be a 2 day stay but due to the short journey, I hope to be checking out some remote areas along the way like the Sumail Gap and whatever else (remind me to read again).
Then we are off to
Nizwa
located at the foothill of dramatic Hajar mountain. Five hours from Sur. Three days here.
And last stop at
AlBuraimi
. We reserved for one night stay, but if it turns out good, we might extent. Its only three hours drive but from what I read, there is just so much to see.
With that I hope you learn some geography today.