Haziq has been pestering me for a separate room ever since he turned 10 last summer. He has been sharing room with Sya all this while. And Jack with me.
In the house I am residing now, we only have three rooms. My bilik beradu, Sya and Haziq's room and the majlees. If I give Haziq the majlees, I don't have a room where my guests can come in and sit and enjoy the glorious food I cook.
I thought for quite sometime about this, and I come to what I call a win-win situation. I am giving Haziq a room and I am also keeping the majlees.
The majlees is actually quite big. So I thought of dividing the room, half for Haziq's room and the other half can still be used as a majlees. Haziq was also asked to sacrifice his room for sleepover guests to which he delightfully agreed. As long as he has a room of his own.
And that is why we painted the room. Just to give it a fresher look. We went to get some new furniture for him. Haziq was ecstatic but Sya was a bit sad. All these hype of getting new stuff and she is not getting anything. Kesian sangat kat dia.
Today I want to be one of the bloggers yang show and tell. So some photos of the two-in-one room. Jeng jeng jeng..
Majlees first..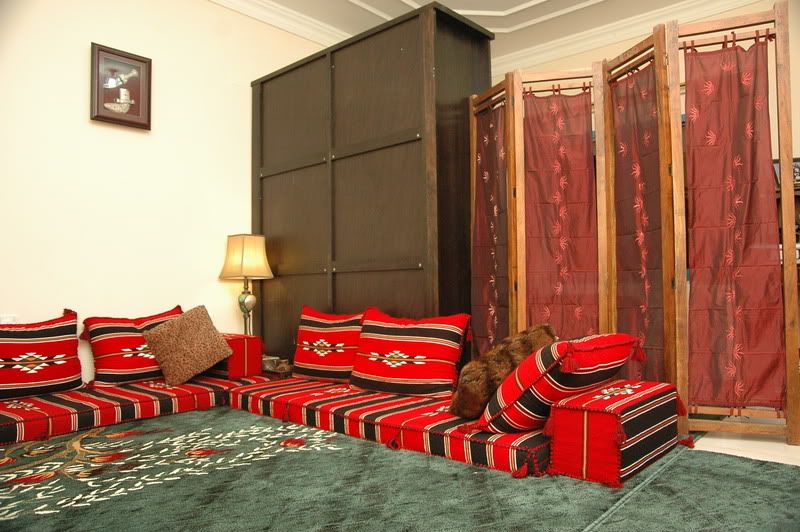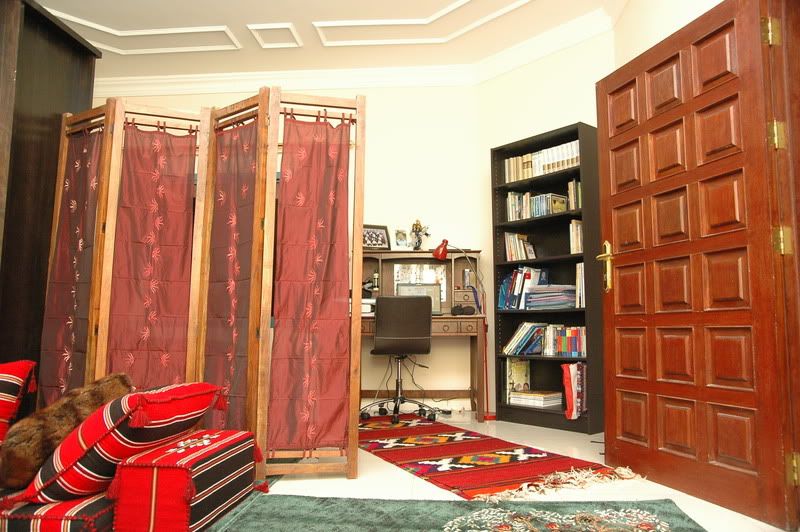 Alhamdullilah, even with the new arrangement, I can still use the arab sofas albeit it is in a smaller space. The good thing is guests can get more intimate.
To make a clear separation between the two areas, I used gobok and a partition. Clever kan? Initially I thought of putting up a plywood wall like. Scrap that idealah. I think this natural separation is much better. Yang lagi bestnya, we now have a new wardrobe. So duvet yang asalnya bawak katil telah di susun rapi. Lover took advantage and dump his suitlah, baju melayulah kat situ. To the dismay of Haziq. What? You think all of these are for you?
Of courselah you can still see the study table and the shelf and kalau gatal jugak nak peek, you can see the bed. Tak apalah..
And now presenting to you Haziq's room.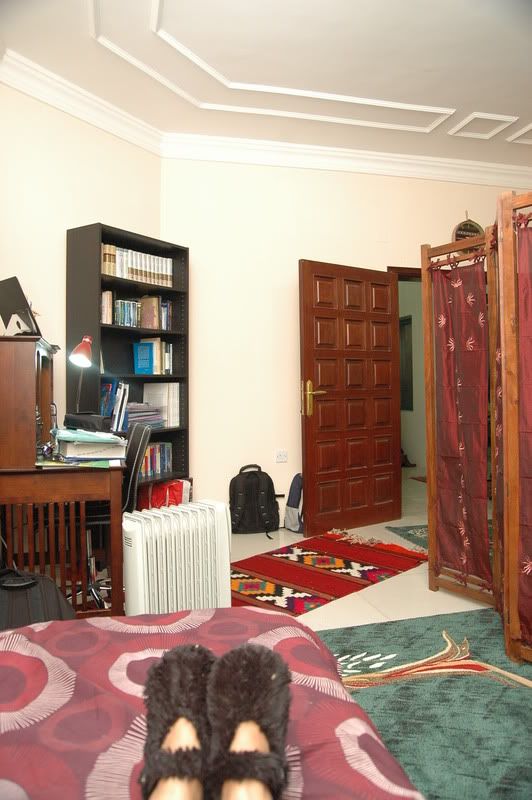 Well, the room is not so big, but sufficient I think.
I am actually very happy with the turnout. It's more than what I expected, Alhamdullilah.
Some touch ups (yang tak tau bilalahkan), new curtain and some canvas paintings to be put behind the wardrobe.
Anyway untuk Sya yang jeles tak keruan itu, I bought her a lava lamp. Sukaaa.
The new arrangement is that JackJack is to sleep with Sya. They love it. Ooohh sungguh adult. Tapi ibu dia di landa kerinduan.
Confession : There was this this one time when the nights were very cold. I was told by Sya that Jack woke up and told her, that he is cold. Then I errr broke all the SuperNanny's rule and whispered to Jack, if you are cold, you can come over to my room and sleep with me. And he did...many many nights. I don't know when he walk in, but in the morning I found him under my wangi armpit. *GRINS* And with very heavy heart told him, tomorrow you must sleep in your room ok?
But that was early of January. Now they make arrangement of their own. Either all of them bunk in Haziq's or Haziq menyelit in theirs. Hmm apa-apalah. Janji senang hati. And Jack has not come in my room since.
Kalau nak rehat-rehat boleh off lampu and baring-baringan