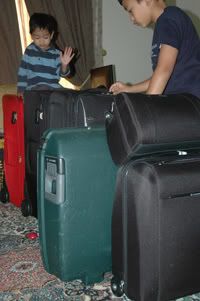 ..I will be sitting in the cramped economy class, minimal air conditioned Qtar Airways plane bound for Malaysia. OOhhhhh seronoknya. Perhaps this is the first time I am excited about going home, even though I have been back twice.
The first, as some of you know was the emergency getaway when my late mum got warded. The second was me going home with jackJack, settling (?) a few things with the office. But now is a real deal. the whole clan is going home. the kids are ever excited. Sya has been counting days from hundreds and today is day zero. I am so excited, I think I am even nervous.
I just packed last night, then there was Heroes so I packed slowly while my eyes and ears are stuck on the tele. I finsihed packing this morning. I think I have put everything except my toiletries. Ni tak mandi lagi pun ni. Lepas ni lah.
I'll be staying for two months in Malaysia but lover is going back earlier. Oh can I do it alone with the kids without my night tuck in?
My immediate plan is probably to eat KFC at the airport itself since I am sure my dad will not whip up any asam pedas ikan parang and plus I miss malaysia KFC. Then prolly we well attack satay muar and mee bandung pelbagai.
On Saturday we will definitely go makan ikan bakar at Umbai. The one that we had
HERE
. We'll get all my in laws and my nephews and niece.
I will try my best to get at least one facial service in Muar because I know I won't get to do it anywhere else later. And a haircut if possible. Plus in Muar is so much cheaper lorrr.
The plan in line is also to sunat Haziq the following week and nurse Haziq in Melaka for a week (or less). He will probably have to sit back in kain pelikat watching the others panjat pokok rambutan. Alaaa pity him.
We'll drive back to KL on the 6th somewhat for a weekend wedding. My cousin is getting married on the 7th. It should have been my brother's.
On the 9th I'll be seeing some of you if not all at Mid Valley. Ohhh seronoknya. Hitam dan gemuk pun lantaklah.
Then the week will be hectic with us running around to EPF, LHDN and banks. In between I want to take the kids to places that they have never been to like Berjaya Time Square. Syoknya tak yah gi masa weekend. Must go also the "eye on Malaysia". Not forgetting bbokstores to stock up books. Plans are fluid.
Weekends will probably be filled with makan-makan session with relatives and friends. Our Pantai Timur excursion might be cancelled because lover's leave is cut by two weeks. But I don't know. We'll see. Loklak pergi Genting ajele. The kids have never been there anyway. Or Colmar. See firstlah.
There will be a kenduri in Melaka for various aqiqah on lover's last week in malaysia. If you are around give me a tinkle.
I plan to make a biiiigggg trip cari kawan with the kids when lover go back to Qatar. Location is still a secret. Besides that, I would have to drag them around shopping in KL. Grand sale in malaysia now? Lover is worried. He wants me to get the leash.
The bigger target of this trip is to eat as much as I can and stock up on cili kering, ikan bilis, udang kering, mata kucing kering nak buat air, daun kesum, daun pandan, daun kunyit, serbuk kari dan pelbagai.
Hope to get see some of you in betweens.
Woo hoooooooooooo