Alhamdulillah we managed to make one decent looking lapbook for our summer project before I go home.
Initially I was not so sure when we are going back. As a matter of fact, I thought we were not. Qadr Allah. So we will be going back TODAY y'all.
Anywaaayy, we did a lapbook on one of the sahabahs today, Sayidinna Abu Bakr AsSiddiq.
I must say, to date, this is the most challenging lapbook that we did. We have done only three so far. Hahahaha. Macamlah banyak sangat.
Challenging because first of all I had to read ALOT. Ok reading a lot is not the most challenging part. The challenging part was, to dilute the overloaded of information so that it is usable for the children. There are just so much to tell, I feel like giving them all.
I am not an experienced teacher as you may know.And my personality is, I want to give lots. Cewah. Actually sometimes when I tell a story I become too passionate. Itu maksudnya by loving to give lots. Tak caya bacalah entry entry saya.
Thus, as a solution to this, I forced them to read as well.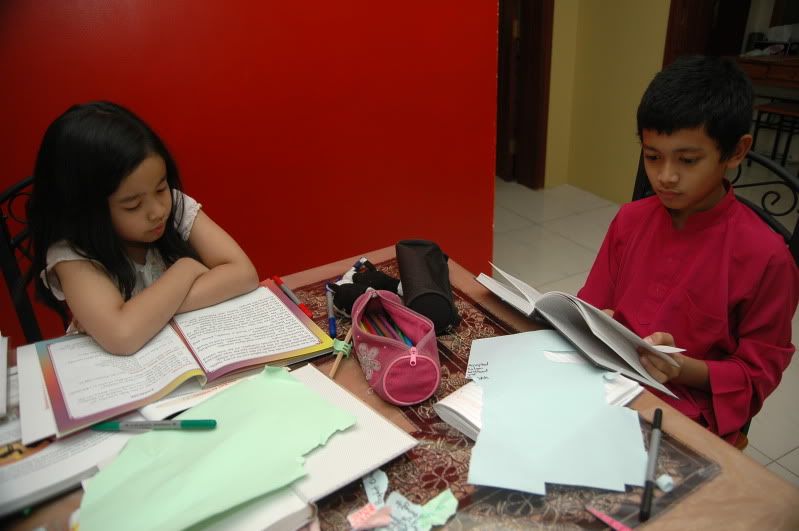 Gosh, we are messy. And hmm Haziq is always wearing that pink baju melayu each time I put his picture here.
So so so the cover page was partly done by Jack. He did the blue sky and he wrote the Abu Bakr and the menggerutu As Siddiq. Berkerut dahi melihat tulisan bergerutu. :P
Who can guess what the two yellow humps are?
Anyway the the two yellow spiky humps are cut from paper folders. I am now a collector of paper bags and folders whenever I can get them free.
And lapbook projects like these test my craftiness to the limit. Sebabnya I am not crafty to start with. To be able to make a chain man like in the previous entry is a big achievement already. Hoyeh! Hoyeh!
So my perasan crafty moments are making Abu Bakr's r.a. working files and making a mean looking sword.
And also my perasan good lighting moment.
But the gist of it all, I pray that my little effort is a gateway for them to want to learn more about the history of Islam. To love the prophets. To love the sahabahs. To derive lessons from it and to emulate their virtues. To gain strength from their characters. And most importantly to fear Allah and to rely only on Him.
For details of the lapbook, you can visit my other lollies
HERE
.
And I seriously recommend you this lecture by Sheikh Anw@r Awl@ki
Abu Bakr AsSiddiq r.a. His Life and Times
And I should be finishing my packing now. :D