T'is the season to play outdoor
Tra la la la lasaa la la la laa
As I have mentioned the weather has cool down. Outdoor time people! We went dune bashing the last weekend! We went to Kh0r Al Udeid. If you want to know what and where this is refer
HERE
And this time, in a smaller group of 12 4WDs, we went through an even exhilarating terrain than
the last time we went
. But this time it was only a day trip. We went after Jumaat prayers and went back after maghrib.
This time round we got to enjoy the beach. The kids swam. Some fished. Some went to tangkap kupang. My lover just sat down chatting. I ran around with the children taking photos.
Highlights :
We went down on a very very very steep slope with our car. Triumph! I took pictures of other cars going down. Of course no one had mine. Hmm I had to strategise next time. Haziq slide himself down. Then while waiting for all the cars to come down, the kids ran up the dune and slide down and ran back up and slide down again. Man they have so much energy.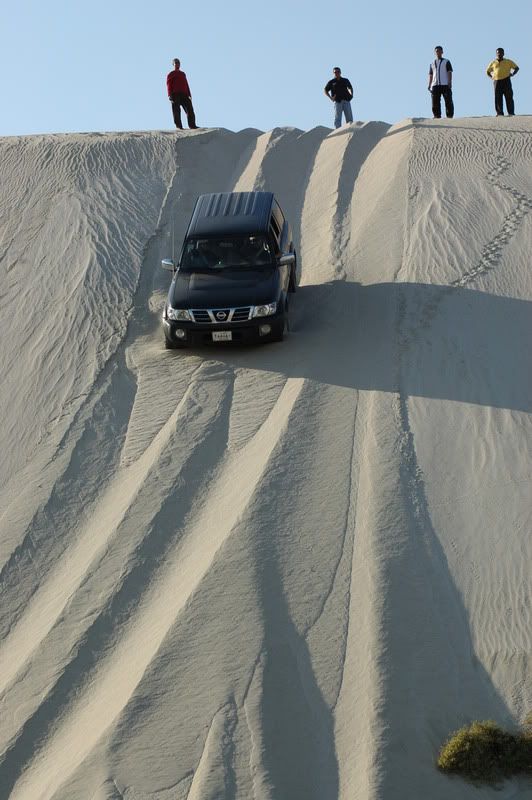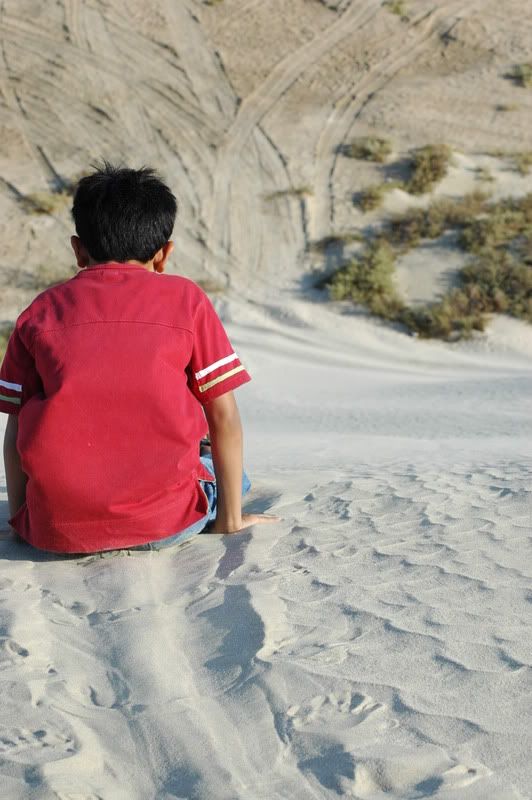 Goddess highlight:
I brought nasi lemak, sambal kaw kaw and ayam goreng rempah toss about and a flask of chai. They said the sambal and chicken was super duper. He he.
Energy (lack of) highlight:
After gobbling two plates of nasi lemak, I decided to run about with the children on the beach. Then I thought why not I try getting up the smooth crescent dune because it looks too inviting. Like a smooth icing just waiting for you to poke it.
Let me tell you this. It is really really difficult (for me) to get up the dune. For a 100 percent energy I gave, I only get to move a little. One step forward, three steps backwards. I cannot imagine being lost in a hot dessert with all the difficulty walking in the sand. Err the kids however climbed up like nobody's business.
I had to shout for Haziq many times because he kept wandering about the dunes when we got up there. When he was on the other side, I cant see him. I kinda get worried, because the dunes look almost the same everywhere.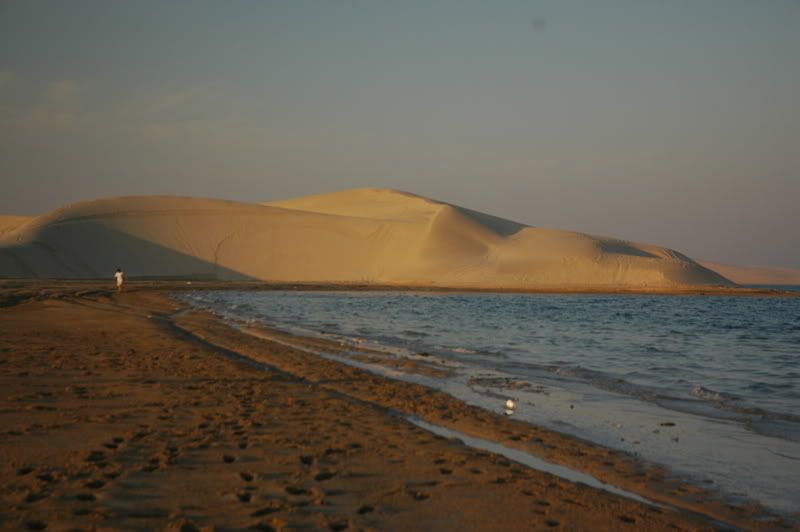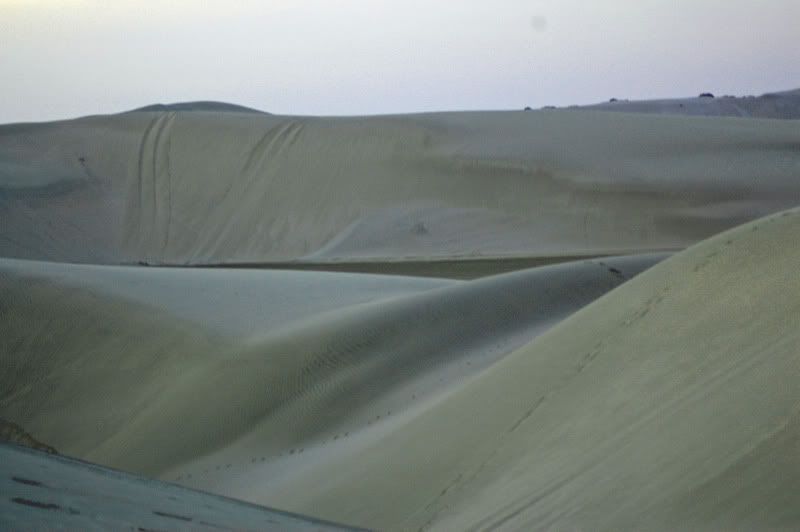 Photos highlight
We moved out after finishing maghrib and Isyak (qasar, Jamak). Of course I had to be the last one to pack. Cleaning up the kids took me a long time.
Then we travel through the dunes in the stark darkness except for the lights from our cars. Occasionally there were a few locals in their powerful Nissan Patrol or Toyota Landcruiser zooming around us. We were getting out of the dunes, they mostly were getting in.
The drive back was challenging because we still had to go through steep slopes. Many got stuck but there were many of us. So while I waited for the guys huffing and puffing helping some cars out of the sand, I took photos.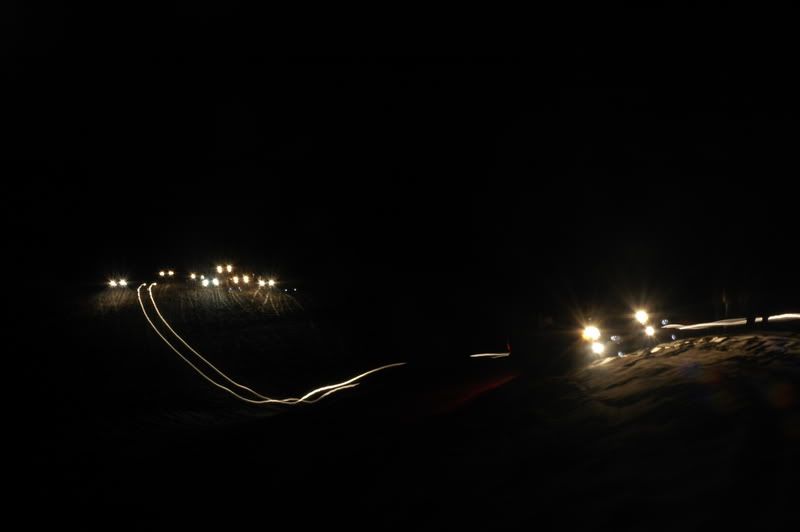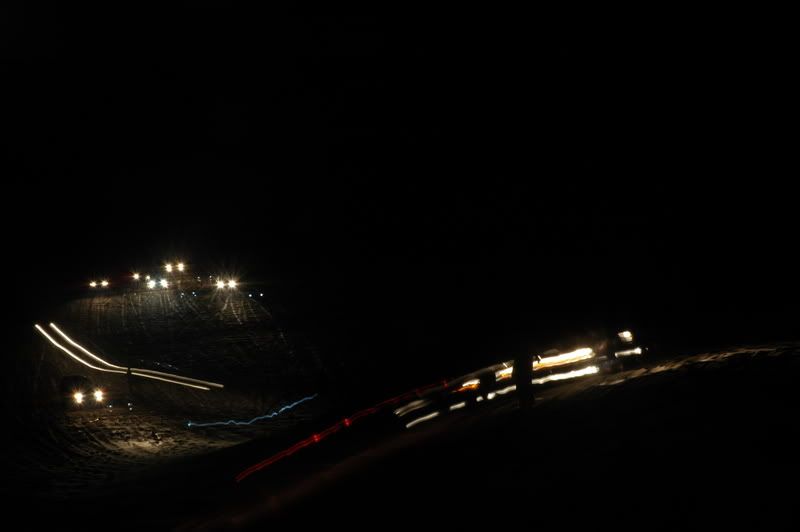 note : the white light is the car front lights, red light is the car rear lights.
the streak is the light following the car's path movement.
the top picture shows a car going up the slope in the dark. The next picture, shows that as a car was going up, another car came rushing down the slope at almost the same time. About three locals were driving down the dune, driving almost like mad. Scary!
The trip was by far the best sand dune trip I went. There were no formal guide. We depended on this guy who apparently has been visiting the dunes. He is equipped with GPS of course.
I think I am now very interested with GPS. Very very interesting. When is my next birthday ah?
More photos
HERE
Tomorrow night I am going crabbing.