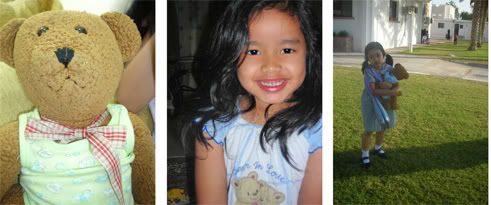 Hi! I am Barnaby. And this is Batrisyia. She is my mommy for three days. Sunday! Monday! Tuesday! Wednesday! Hey! That is four days. I have no fingers. I can't count.
Miss Laura, said, Batrisyia is a big girl. She can take care of a cuddly bubbly bear like me.
She does everything with me.
She brushes my (lack of) fur.
She eats while I sit.
She takes me to school.
She reads to me.
You see I even have clothes to wear. Apparently I am a boy. Batrisyia always make sure I look good before she takes me out. Which by the way she only takes me out to school.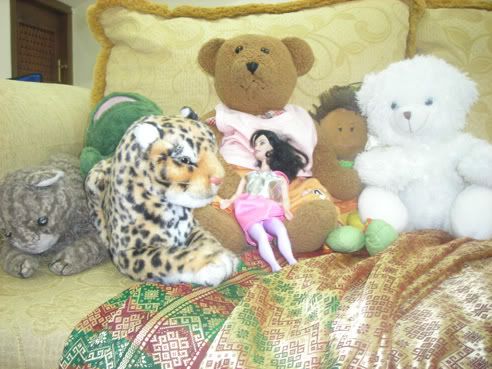 Meet my new friends. From left is Meowie. Next to it is froggie who apparently have trouble facing to the front. He croaks. Really he does. If you press his tummy, he will croak for you. Then there is leopard whom everyone calls him tiger.
And then there is dancing barbie in between my legs. :D. And Kayla who is squeezed in the middle next to Fairy. We call him Fairy because he is a faggot.
Here's the cheeky one. His principal of life at the moment is whatever is yours is mine and what is mine, is really mine. He thinks I am his. To Sya's dismay.
But before the day ends, Batrisyia can be sure that I will go running back to her. Tomorrow I am going back to Miss Laura and she will bathe me (in the washing machine) and later get me a new mommy or maybe daddy.
Oh Ibu said, when she helped Batrisyia put my baju on, she told Batrisyia that it is the wrong baju for the day. That Batrisyia should choose another one. Which Batrisyia refused. Then Ibu remembered she argued with her Ibu. All mummies want to be mummies to their big daughters' babies. Then she lets Batrisyia pick the baju she wants herself and gritted her teeth instead.
Barnaby said bye-bye to Sya. Barnaby had a great time.