I went to the dunes last Friday. It was good weather. Plenty of sun. Slightly windy. Not too hot neither it was too cold. There were about seven cars. A few newbies among us.
Everything seems good that day except that we just realise that without Mr Syam, our usual Zulu Leader who is the Malaysian expert in tracking the dunes, there is no one among us who is expert enough to lead the convoy deep into the dunes. A few of us have GPS. One without the off road data, one with complete data alas it is a borrowed GPS that no one really knows how to use it. Then there is mine with a rough keyed in data but has never been used on the off road on the dunes.
Since mine is the best among the worse, they aptly appointed my car to be the Zulu leader, with lover driving and me navigating.
And that was an adventure to be remembered on my part. Off road using a GPS is really not the same as the on road one. There is no voice saying turn right here, if possible make a u turn, turn left in 200m. In fact there is no voice at all. No instruction. All is up to you.
Basically there is just this line that shows where we went the last time. The thing about being in the dune, as you know, it is vast. Standing at one point, the landscape looks almost the same. I made a mistake even at the starting point. Thinking that it is ok to go parallel to the line on the GPS, I found myself and six other cars going higher on the ridge obviously on a more difficult route. We were going blindly up and down the slopes and suddenly we found our car really at the edge of the ridge.
I don't know what I am worried more, our car toppling and rolling down the dunes, or the other cars following suit behind me. I felt that we were going to topple and I quickly picked up the walkie talkie and alarmed the other guys to go to their right away from the ridge.
"Problem! Problem! Go to your right! Right! Right!"
At the same time my lover maneuvered the car and down the slope we went, gliding. Alhamdullilah, my lover was not panic and had skills handling the car. I was shaken after that. As we went down, I looked up and saw that the rest of the cars were really high up and two of them were stuck while one of them was slanting at the edge too!
Alhamdullilah again we managed to get the car down on one of the most difficult slopes I have been on. The actual saved route on the GPS and the route that I took, look so close to each other. I was going parallel so nothing should go wrong. But in reality the difference was a long runaway of tall dunes separating the two routes. I then decided to stick on the route and not divert much.
Even then, being the first one going up and down the dune, without anyone guiding in front was a scary experience. You don't really have a reference point to gauge what is in front, what your speed should be. Worst is people are depending on you, while you are not sure whether you are doing the right thing or not.
But soon I manage to get a hang of the route on the GPS and the sandscape (as in landscape) becomes familiar. And I began to relax and start making jokes on the walkie talkie with the guys. I even pointed to the guys the familiar spots that I named. They said I sounded like a tourist guide.
I remembered there was this one point when my lover had a hard bang on the sand. I think he went a wee too fast down the slope. My thermos of hot air mata kucing went flying and spilled the drink. Hu hu hu.
We were getting near to the Inland Sea, when my lover realised that the car's temperature was rising.
"Dr. Dr," I walkie talkied Dr. Azhar, "The car's temperature naiklah. Panas ni"
"Oh baik saya datang. Tapi saya tak bawak bag ubat nak check ni."
That was a joke
It was our radiator. It was leaking. Sikit retak. It must be due the bang that we had. Hu hu hu. This one is not a joke.
The guys then buzzed around the cars like bees trying to figure out what to do. I knew we couldn't get deeper into the dune. the only way to go is out. But how do we do it on the harsh track like we had earlier. Frequent stops are anticipated.
Then a Patrol car stopped and came out an arab man. He approached one of us. Assalammualaikum, he said. You don't remember me?
masyaAllah! Kareem. most of us knew him. He was our guide when we first went to the dunes last year. He looked at the car and finally said, it's ok. I help pull out.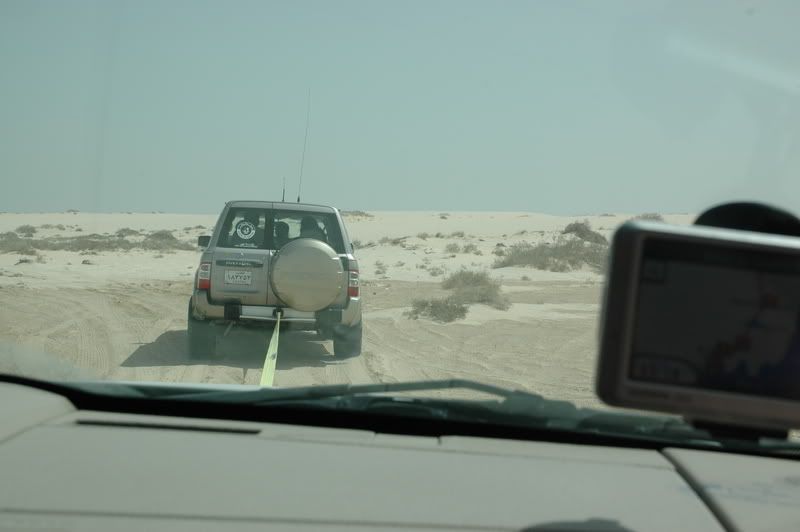 He pulled us out. Us with no engine on, only the gear at neutral and him being the soul machine pulling us up on the dunes. Hebatnya Nissan Patrol ni. The next time I am buying a 4WD, I am getting a Patrol. definitely!
And of course Kareem is a real pro. Pulling us, fully loaded is not a problem to him at all. It's like a normal thing to do. he pulled us out of the dunes safe and sound. Alhamdullilah sangat. Dalam sukar tu ada gak jalan keluarnya. Out of nowhere Kareem came to help.
My lover wanted to pay him but he refused. Wallah! Wallah! Ikhlas! But we had to pay QR300 to the tow truck to pull our car back home of course. Just to let you know, Kareem charge QR1000 or more to pull other people out.
And saja gak nak bagi tau, yang selama ni the locals selalu tolong kita orang tu, tak mintak duit pun. Salam terimakasih aje. Tapi mat salleh dia akan tekan QR4000 untuk tolong tarik simple aje.
All in all, I am thankful that all of us were safe. The rest of the guys went on with their trip using the other GPS. Dr. Azhar tried reading it, and he did ok, I suppose, knowing that he is back safe and sound now.
Our car is still at home awaiting for spare part which I believe would take ages.
But will this stop us from going again?
he he! What do you think?