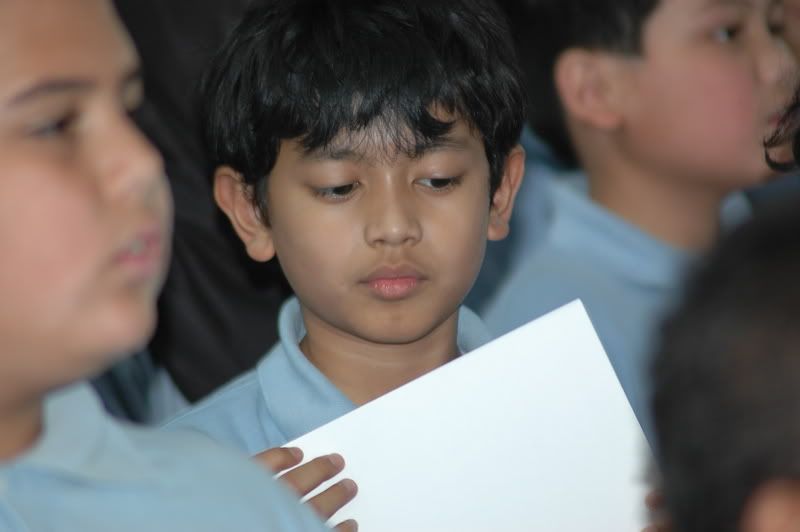 Haziq is 10 today. Alhamdullilah. Bless that child.
He is still the same chatty and gelabah child I know. But I think he is more selective in his conversation and do not necessarily strike a conversation with everyone now.
He is doing well in his studies, topping best for maths and science and top three for the rest of the subjects. He was in his school play as the Gatekeeper in the Wizard of Oz and did extremely well. he was funny and very relaxed. A real turn of character for him. See some pictures
HERE
. Haziq still has a very strong memory. He can retain lots of things. Hmm..I wonder how best we can nurture him eh.
You can tell, I am happy with him.
Some relevant reads
NGANDUNGKAN HAZIQ
HAZIQ IS SEVEN
HAZIQ IS EIGHT
AND HAZIQ BECOMES NINE
But today I want to tell you a story about the day I found out I am pregnant with him. Him being my first, everything about him is really a newfound experience. I remembered doing my self pregnancy test and finding out that I was positively pregnant. Oh how thrilled I was! I was skipping inside out.
But of course I want to be doubly positive so the next day I went to the dispensary near my office. The thing is, I didn't have a car then. My lover was using it. We were sharing car between us.
But I must must must go to a somewhat doctor. Pee myself in a little container so that someone can check them and confirm that I am really really pregnant. Sure I can wait and see other clinics near my house. But nooooooooooo I must must must check it now. during office hour for I cannot contain this excitement any longer.
Hmm I must borrow someone's car. tap tap tap. who? who?
Hmm then I saw mosh. Mosh is also a fellow blogger in the efx (but now efx is down or defunct, so he is a lost blogger). ANyway Mosh was my ex colleague and at that time he had a car. Even though it was a borrowed car. Still he had a car.
So I asked to borrow it, and he said yes.
But then he also managed to ask me why am I going to the dispensary.
I really do not understand myself during those years you know. It was 10 years and nine months ago. I was always suspicious of people. I was always thinking that people can read me. And at that time, I was guessing that mosh knew I was pregnant and perhaps perhaps he was going to blurt it out to everyone. I was like that bad smeagol thing. Always suspicious.
So in defense I retorted and said something like aku punya pasallah. apa kau sebok. or what i said I don't really remember. What I know was, it was quite rude.
I did, without shame, took his key though and drove to the dispensary.
Really looking back, I think I would hate myself. Why Mosh didn't hit my head escapes me. All I could say is I got a tummy ache and let go a fart in his cubicle and that would have been easier and perhaps funnier if not unladylike. But I just had to shout at him.
Anyway..why am I writing this? It just occurs to me, that each time I write something about Haziq, mosh would never fail to remind me of my rude manners. he would say something like..oh I still remember when someone someone wanted to borrow my car to the dispensary or something to that effect.
So today 10 years and nine months later I am making a public apology to Mosh for shouting at him and being suspicious of his goodself when really I should be sweet mannered especially when I wanted to borrow his car. I should not have done what I did. I am sorry.
So hopefully for haziq's next next birthday, I won't find Mosh repeating the same line against me. That is if he can find in his heart a way to forgive me. Hu hu hu.
And also 10 years and nine months ago I was 7 kilos lighter.