I was making a road direction map on the power point earlier, when Jack came up behind me. he looked at my sketch. And then commented, "Your traffic light is upside down. The red should be on top and the green should be at the bottom. the orange is fine though."
Eh ya ka? Bukan green on top ke?
This confirms that some of my memory cells are depleting. Too many bad sectors. I really cannot remember the arrangement of the colours anymore.
He even brought me a book to prove his findings! Oklah oklah.
---
We were at the clinic yesterday. While waiting for the ubat, he started a game of guess-what-animal-is-this? He started with asking us to guess an animal with four legs, orange in colour and has black stripes.
Then I asked him an animal with two strong legs and has a pouch on his tummy. Sometime there is a baby in the pouch. he doesn't know this by the way.
Then he asked, "What has two legs and has a face that is like peach or brown and talks."
I guessed,
monkey? no.
Chimpanzee? No
Gorilla? No
Parrot? No
Then what?
It's you! Pointing to me.
Cis! Boleh ke ini macam punya soalan?
---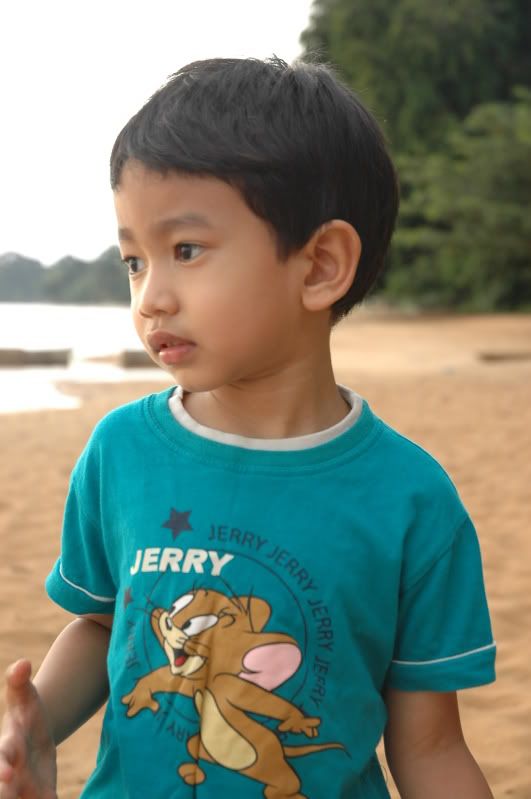 I asked Jack
"Do you love me?" (soalan standard lah ni)
"Yes"
"How do you know you love me?"
"Because I always kiss you."
"Where is this love that you feel?"
"huh?"
"Where do you feel it? In your eyes?"
"No."
"In your ears?"
"No"
"In your mouth?"
"No." he was eating while I am bombarding him with these questions.
"Where then?"
Still munching, he pointed to his stomach.
"In your tummy?"
"Yes!"
I must say that is quite close to his heart. He is a fine boy indeed.
On another thought, I am getting to him through his stomach.