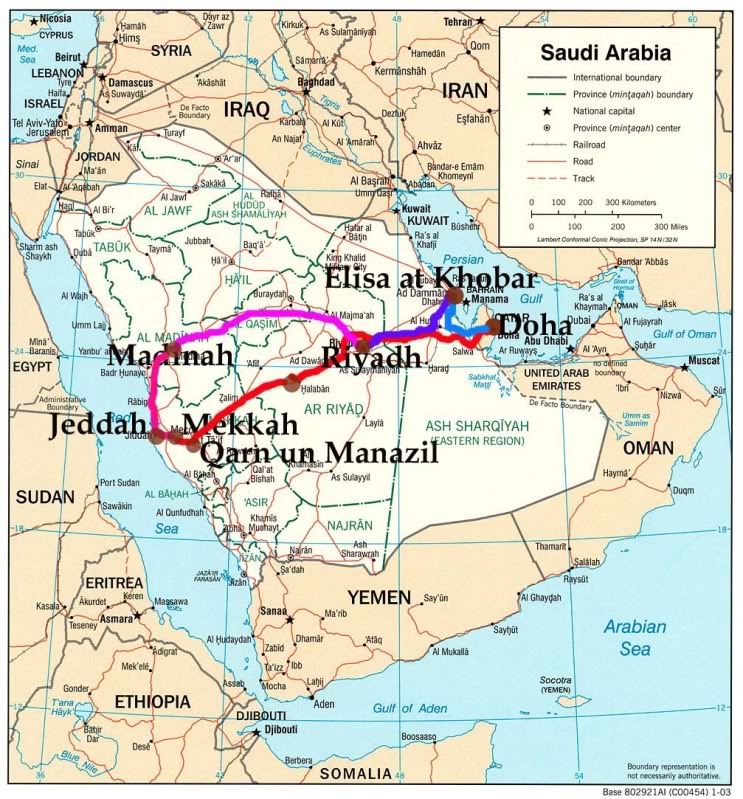 Insya Allah we will be going for umrah. We plan to leave this Thursday, Insya Allah. We will be driving enroute Doha-not a known stopping destination yet-Mekkah-Jeddah-Madinah-Riyadh-Doha. Doha to Makkah is approximately 1,500km. We will be going with the Faths.
Alhamdullilah we have received the relevant documentation. I am praying hard to be accepted as Allah's guest. Labbayk Allah..
Anyway, the plan is to leave this Thursday. I made a mistake on taking account of the children's holiday. I checked the school's website and it says the school ends on the 1st April. Thus leaving on the 2nd April sounds really good. I only realised, after doing the arrangement, that it is actually a 2010 calendar. *DOINK!*
Since the arrangements are made and changing dates would involve other parties and taking leave of sort, I had to sacrifice the children's 1 week school days. I am just grateful that by then the exam is over. (It's exam week now)
So I was saying, we are planning to leave this Thursday and drive as much as we (and I mean the men, since I cannot take turn to drive in case he gets sleepy. Women are not allowed to drive in Saudi) can. We will stop, Insya Allah, at any small motels which are quite aplenty on Saudi roads, Insya Allah.
The next day, after hopefully a good rest, we will drive off to the town Taif. We anticipated that we will reach there sometime around Isya'. We will go off to Qarn un Manazil which is the meeqat (the place to pronounce the niyah for umrah for people coming from the Najd area i.e. the arabian planes). Qarn Un Manazil is about 75km to Makkah.
We will take shower there, put on our ihram garments and do the necessary. Make niyah and proceed with talbeeyah all the way to Makkah. I can almost imagine the feeling. Even the little simulation we had are uplifting. *tak sabaaaaarrr*
Insya Allah we plan to perform umrah on the very same night. May Allah make it easy for us.
We plan to stay in Makkah for a few days. We will leave for Madinah on the 7th Insya Allah stopping at Jeddah to hunt for books. This is a bit of side track. More of taking opportunity that is. Insya Allah the english islamic book selections in Saudi are more varied and not to mention cheaper.
Then we will leave for Madinah and stay up to the 9th. I wish we can stay longer. :(. It's okay. I am more grateful for this opportunity if Allah wills that we go.
We will then leave for Riyadh on the 9th and will go hunt down Mak Nenek's (a fellow blogger. Very famous with her banner design) house. Mrs Fath is planning for ikea. Me? Another round of book hunting would be good too. <--- sungguh over.
Okay this entry is edited. We have made a bit of change in the plans. Instead of going straight back to Doha with the Faths on the 10th, we will split. He will drive to the South back to Doha while I will drive up to the North to Elisa's. :D
Thus status quo is we will depart to Doha on the 11th.
The trip look too short to me now.
Friends, do pray for our safe journey and that Allah make things easy for all of us.