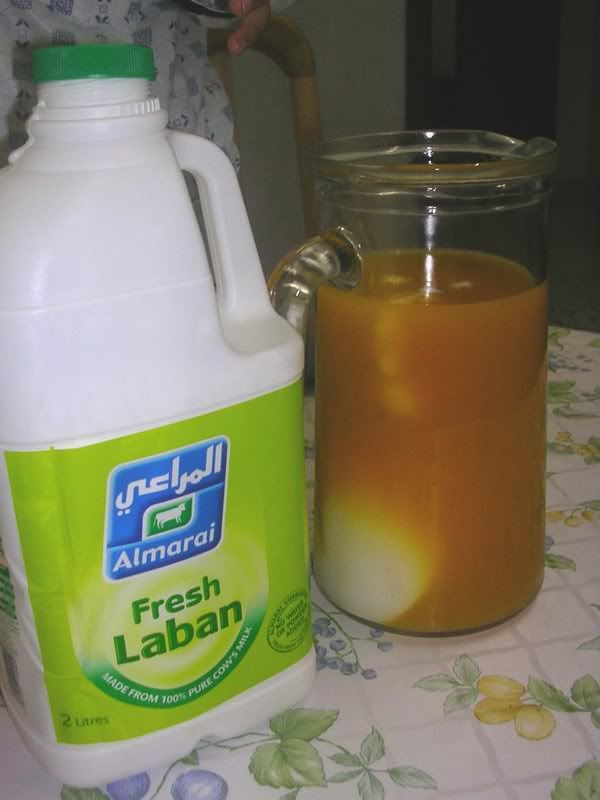 They sell excellent thick commercial mango juice over here. The kind that you can get in only some "kedai mamaks" in Malaysia. But they have it anywhere here. Not just at any selected shops. Even the most run down "kedai pak Ravi" sells the mango drink.
So apa lagi? Mango lassilah kita..
Half a jug of thick mango juice.
A quarter jug of creamy fresh laban. (Which is plain yoghurt.) Or whatever ratio you prefer. The locals here I know like 1:1.
Perhaps sugar to taste. Just like popcorn, some people put salt instead. Sugar for me, thank you.
Serve chill.
And you have the RM8 mango lassi typically sold in Restoran Syed. Mind you the RM8 was only for a glass. The one that I drank nearly every week when I was pregnant with Jack. Taking my time swirling the liquid in my mouth, in between the teeth before slowly allowing myself to swallow it, savouring every trickle down my throat.
Hot season is here and so is the sweet juicy expensive Indian mangoes. Sold so cheap. QR10 for a box of 16. The bigger one is QR10 per kilo. Slightly more expensive, but ahhhh heaven is made of them mangoes you know.
This makes living in the hot, dry country worthwhile.
Ref : QAFAC – HEALTH ALERT - 03 / 2006 – Wed. 24th May 06