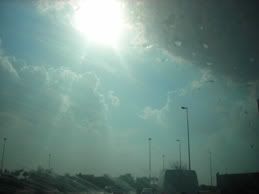 Did I tell you it rained here on the fourth day of Raya? It wasn't much but it was enough to wet my cement compound and bring up the smell of rain. I didn't even realise it was raining, until we went out that day.
I was overwhelmed by the rain you know. I almost cried. Sappy gila aku ni. But yes, if you have not seen rain for so long, droplets are like blessings. You would thank God for it. You would want to savour it. Actually what I wanted to do was to stand in the rain, heads up, arms outstretched and eyes closed enjoying the raindrops. But, I had mascara on, powder and all. he he.
The real rain season, however will be sometimes in February and March. Those are cat and dogs rain. Just watch this space for entries on flash flood around those time of the month. (If I can take my own photo that is)
We went to Dukh@n which is about 1 hour drive from D0ha. There was a raya invitation. And on that day, I really felt that raya was really raya. It was probably the long hour travelling traveling. (Ceh! Baru satu jam). And also perhaps the house is old quarters, bungalow with spacious area and white wooden fences with creeping vines. I felt like I was at my Atuk's. I felt like I just balik kampung. The true spirit of raya is an exodus to kampung (pardon KLites).
The rain, the traveling that day, the convoying with many Malaysian (Ms. Ruby one of them. Ha ha ha Elisa, ni kan sikit-sikit I mention nama dia). To add to it, the Melayu community in Dukh@n is way smaller than the one in D0ha, and somehow they exude so much friendliness. We were only invited to one actual open house, but we went to the other three Malay houses as well. I do not know any of them. Kelam kambut dia orang masak. Sampai nugget pun keluar. Kesian dia orang.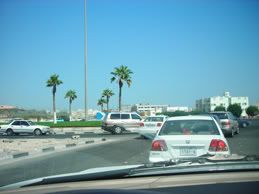 This morning, Doha was blanketed with thick fog. The ambiance was cooler and almost refreshing. Visibility was about 50-100m. The sun shied away for a while. Amazingly traffic seems to be on everyone's side too. Fog as thick as this is akin to the haze found in Malaysia and Singapore. Ahaks! Ahaks!
The top two pictures are actually at the same roundabout (called Sudan roundabout). One taken this morning, the other sometime during clear day. The rest of the pictures I just put it up here to prove my point. And my point was, my windscreen is dirty.
The kids have been coughing. Running nose and all. Me too.
You can probably tell by now. These are all signs. New season is coming.
Yay to winter.