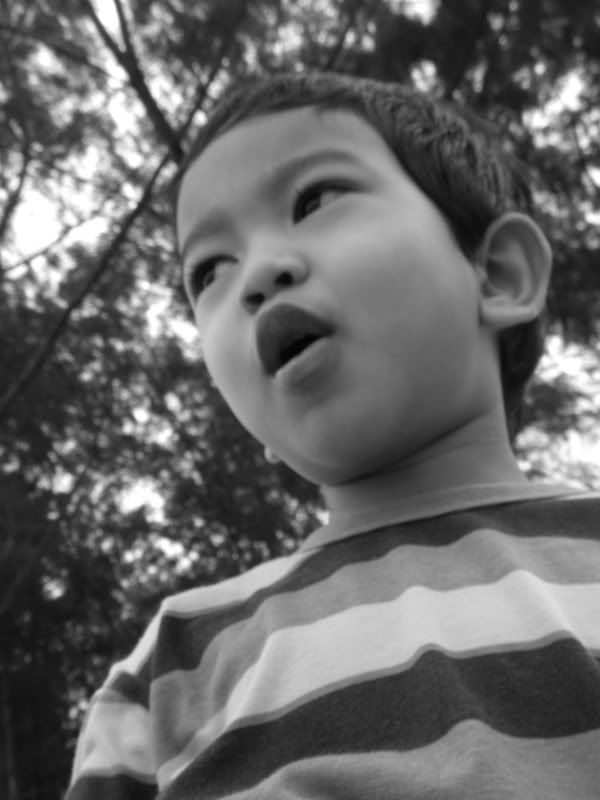 I miss you. Zachary has been using the three words to such great effect these days. He said I miss you when I picked him up from school and hugged me tight. He said I miss you to his dad when he comes back from a long journey home.
And what more, he said I miss you even to Loi Loi when they meet at open house after long weekdays. Oh Loi Loi's mums and siblings (all girls) are ever thrill of course.
Zachary is also the favorite of many of the "uncles" here particularly Mr. Adub. Mr. Adub has three daughters and no son (yet). He adores Zachary to bits and even spoon Zachary dinner whenever he can. And Zachary would always run to him first and hold his hands out so Mr Adub would carry him.
Last night at an open house, Zachary said to Mr. Adub, "hello Uncle. I miss you". Mr adub melted last night. he said to my lover, "Mak oi! Ko tau anak ko kata apa! Dia kata I miss you. Cair aku! Cair!"
And what's special about Zachary's I miss you is that he doesn't use it freely. I miss you is not cheap. He knows really when and to whom he should use it. Bless this child.
---
I am happy for my children. I am happy that they grow up surrounded by love not only from their immediate family, but also our friends and my friends children. Be it here and even my closest friends in Malaysia. My Pak dara mak dara and sebagainya.
I think, children who grow up knowing that they are loved in many ways, has good self confidence, Insya Allah. A high esteemed of oneself. A child who knows he is loved do not have to go into the world to prove himself right all the time. Because he is confident of himself. Even he is wrong, he knows he tried and people would love him regardless. And the world is a platform to learn, to teach and give.
This love from extended families are supporting love that is vital to a child's growth. It is laso important to nurture a more wholesome person that can connect with community. That can make them carry themselves as who they are, Insya Allah, without pretense.
Contrary to a child who is always condemned, criticised and snickered at, she grows as a rebel child. Having the need to prove herself all the time. To top it, she might have low self esteem of herself and very little confidence. She might also grow up thinking that everyone is against her, making her rebel even more.
I should know the latter one.
I am happy for my children.