I predict year 2008 would be another busy year for me. In terms of daily schedule particularly with the kids.
Soccer Mom
I just enrolled Sya in Karate class which guarantees lost of three evenings for me. It's the worst time of the year now as there will be an exam this coming Saturday. i am ferrying both of them to the Karate class. Sya at 3-5 Haziq at 5-7. It will be ok when exam is done.
Goddess Role
A week before year 2007 end, Mr. and Mrs. Periuk Besar wanted me to marinate some beef for bbq at their place. The exact recipe I made (in a smaller scale at one of the crabbing bbqs). Mr. Periuk sedap loved it so much that he wanted 6kg of it. In fact he wants another round of it in a few weeks time.
That was an honor and in a way very motivating. I hope to garner more ideas in terms of cooking this year. When I try one recipe I like, I like to make similar ones and add something else and use it on something else. So far new recipes have came out and the outcome was scrumptiously delicious. So farlah. In fact the marinated beef strips is a mix and match of recipes. OKlah. Sedap jugak.
Photography
I enjoyed taking photos when I was with the ASS. I introduced the
MALAYSIANINQATAR
site for my collections of photos of the malaysians living in Qatar. I notice there are many more DSLR enthusiasts here. Or perhaps not enthusiasts, but users. Some ask my opinions on the photos they take. I find it hilarious actually because I am far off from knowing anything about photography. Perhaps just a little here and there.
So, I initiated a small group to do a little project. Nothing much actually. We will collectively roll out possible themes of pictures and post it up on a blog. There should be discussions on technicalities and so forth. I hope to tap ideas and knowledge from them and perhaps dispense some of mine. It's a nice feeling to be able to share especially if you are in the same language.
So far there are only the three of us and we have only started introducing ourselves and our tools. I hope this group will be beneficial. That reminds me, I need to invite another two to the group.
Living in Qtar
I am not saying I will stop whining about my ugly house. What is Lollies without her drama? But I am doing something just to make the house feels somewhat mine. I decided to paint some part of the house. We have started with the living room. And when time permits, we will continue to do the majlees. Perhaps sometime this year we will do the kids room too. Sya and Haziq are busy discussing the possible colours, but I am not promising anything though.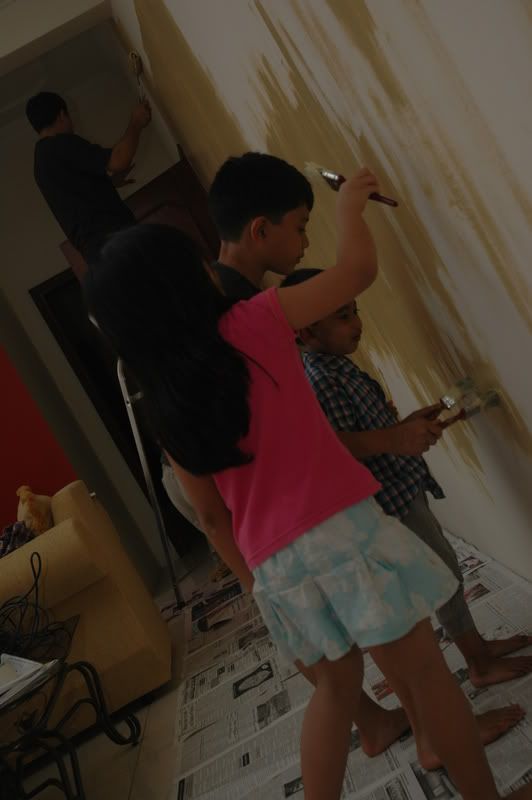 I heart for a better looking curtain and an upholstery. A better looking carpet to boot. But that perhaps will have to wait due to budget constraint.
Reading
I really want to try to read more. I have been reading this book,
The Malay Trilogy
for two months now. Isk isk isk. Should I put a dateline for each book? Like Kejora? Or should I strike it out and play it by my own ear or time?
The Real Deal
I am glad that I am in this Arabic and Tajweed circle of friends. I am constantly forwarded with great articles on Islam. At least I am on my toe on what the sunat ibadahs are. Ashoora is coming my friends.
I hope to learn even more and oblige to my own KPI on ibadah. Tapi seganlah nak cerita. Sikit-sikit atas tujuan mintak tunjuk ajar je lah ya?
I hope 2008 will continue to teach me to be a wholesome person, in every sense. I want 2008 to be a year of learning and discovering.