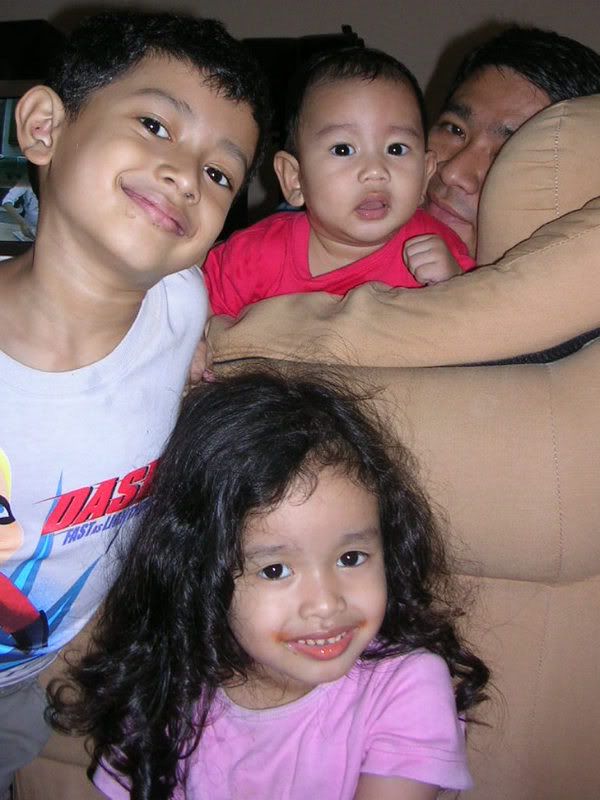 Hazihi suratu usrati.
This is a picture of my family.
Hazihi - this is
suratu - picture. the spelling is
صورة
usrati - my family
أُسرتي
dalam bahasa arab usrah (أُسْرَة) maksudnya family. bila kita addkan huruf ya (ي)jadilah usrati (أسرتي)maka jadilah maksudnya
my
family.
dalam observation yang pendek ini taulah kita kalau kita addkan huruf ya kepada kata nama jadilah ianya sesuatu yang belongs to you. Contohnya
kalam (pencil) - kalami (my pencil)
kitab (buku) - kitabi (my book)
zauj (husband) - zauji (my husband)
habib (lover) - habibi (my lover)
berbalik kepada gambar di atas.
Minal yamin
from the right
haza zauji wa habibi. Hua mohandis
This is my husband and my lover. He is gorgeous (hahahahha)
Hua (هو)means he.
Thuma, waladi saghir zachary
then, my youngest son Zachary
wa waladi Haziq
and my son Haziq
and finally the one sitting down
waladati or you can use binti
Batrisyia. (he he banyak tak tau maknanya dalam arab)
waladi - my son
waladati/ binti - my daughter
maaf mungkin banyak tak betul kat atas
---
anyway saja nak report progress. my arabic class have been going on well. exam hari aku dapat 59.5 out of 60. half mark telah dipotong on my reading. maybe i tend to suka panjangkan bacaan yang sepatutnya pendek.
but my written test dapat full marks. yes! yes! let's pull confetti. kali ni exam ada sikit susah..tapi nampaknya skill main hentam masih ada lagi pada diriku..and Alhamdullilah yang hentam tu menjadi.
I've always told haziq especially, when you are in doubt in your exam, hentam sajalah. jangan di biarkan kosong. untung sabut dapat gak markah.
I have improved slihgtly on my makhraj (ح). However I am rating it 40% only. sebab I did well kalau (ح) tu ada sukun atau baris atas. tapi kalau baris bawah macam (الرحيم) atau baris depan, kekadang jadi kekadang tak. Tak apa cuba lagi.
Baca surah dah sampai AlAdiyat. terus terang aku tak pernah hafal juuz Amma tu sampai sini. Tapi yalah kena recitekan. Walaupun asalnya hafal sebab takut kena soal, tetapi adalah juga kebaikannya. Adalah variety sikit surah dalam bacaan sembahyang aku.
Lagi satu, sekarang ni jadi macam aware pulak surah2 atau ayat2 yang pernah hafal tu betul ke huruf yang aku sebut. Tengok balik ayat kursi mana (ح), mana (ع) mana (dzal(asal dzal ni aku takleh taip pakai keyboard ni hah?)) dan macam-macam lagi. It certainly has open my eyes. Jadi bila dah selalu kena refer kekadang bila hafal tu macam nampak that particular page depan mata. Lebih aware.
All in all. The class has been going on tremendously well. I have added fiqh class as a must go. But can't story much about that one. Saya budak baru belajar. The more you learn, the more you know that you don't know.
Silalah minum air mango lassi. Saya jamu. Kita score exam bahasa arab hari tu.