I remembered more than three years ago when my lover announced that he is accepted to come to Qtar. I remembered how I cried. I remembered how I didn't want to go.
I remembered also how depressed I was coming over here. I was either crying or arguing with him. I didn't like everything. I didn't like the lifestyle and the activities that I have to endure here. The makan and makan and makan and pot luck and pot luck and gatherings and gatherings and the borak and borak are just too much for me.
Allah has planned that things happen the way it happened to all of us. My mum passing away was a big milestone for me. So much so, with her death, I knew for certain that I must be with my husband. Life is too short to be away from each other.
Then I started making myself busy and became the ASS and met lots of people and assumed responsibility of editorialship tak fofessional.
Then again I complained to lover about the lack of religious knowledge especially the children. Alhamdullilah, even before I came here I have been teaching Haziq the Iqra' so we just resume from there. There were Fardhu Ain class for the kids but I knew it was not enough. Conducted in mainly Indonesia/ Malaysia was tough for my kids. So I knew I had to give them more. I tried the best I can. Still i don't think it's good enough.
But then again, there are
usrah
activities. Alhamdulillah for the Ustazs from Indonesia who are here as Muezzin. And there are also efforts bringing in speakers from Malaysia. Abdullah Yassin, Dato' Ismail Kamus, Azmil Mustapha, Dr. Hassan Mahmud Al Hafiz, Hussein Yee (He is coming again this middle of the month), SaifulIslam and many more. Alhamdullilah.
Not to mention International speakers like Hamza Yusuf, Yusuf Islam, Yusuf Estes, Bilal Philips, Yvonne Wridley and many more. They are brought in by F@nar and Qtar Guest Centre.
This year, Alhamdullilah, has turned into an amazing year to quickly eat up the romantic fruits. So much so I have to make a list for you.
Barakallahufik to the Malaysian ladies who put so much effort to start a fardhu ain. they braced through so much politics and perebutan kuasa and bureaucracy. Now the
Malaysian fardhu Ain
classes are conducted in Fanar every fortnight on Saturday evening. Unfortunately the kids' classes are full. But there are still spaces for the teens. Interested?
Q@tar Guest Centre (QGC), one of the most prominent daawah centre here in Qtar are also conducting classes for children from the age 4-13 on Saturday morning. It's called Q M Y S A P.
Qtar Muslim Youth Saturday Programme
. They started with the boys' class since last December. Refer to the web page
HERE
. It's a wonderful programme which not only are offering religious knowledge but also ensuring that they do sports. For mow the kids are doing football, volleyball ad basketball. Soon it will be swimming. And they are also looking at horse riding and archery. Ohh la la. The head of this programme is Dr. Bil@l Philips himself. What more is, the fathers must attend the boys' programme too for they have a class for adults. Kalau tak mo datang, takleh join. Sorry.
They are reviewing the Fundamental of Tawheed and the fathers yang kena buat presentation on each topic. My lover presented a topic on Fortune Telling and Astrology last week. tee he he
They just started the girls programme under the same banner. Alhamdullilah. I uhuk uhuk am the programme's treasurer. Mak gatal volunteer uols. Padan muka kena balancekan balance sheet tiap-tiap minggu! The mothers also must attend the adult class and are also reviewing the same book. Naturally I chose the same topic as lover's to present. Please wonder why. Tee he he The parents must do sports too. Seronok!!
The children are using
The Islamic Education books by darussalam
. And we are using
the Fundamental of Tawheed
. I must tell you, I am not entirely fond to read tawheed book. So it's kind of good to be forced even though I have only managed up to page 22. Tulisan dia keciklah uol. Pinau mata makcik ni hah.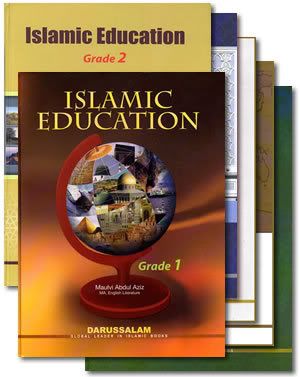 I love the idea of this programme. I pray it works out as the per the objectives.
Alhamdullilah, I am still at my
arabic and tajweed classes
. In the tajweed class we are reciting up to Al A'ala at the moment. I am happy with both of these classes. Indeed, these two classes have opened up so many doors for me. Alhamdullilah by the Grace of Allah. I am ever thankful to Him. May Allah reward all the teachers and sisters there with Jannah.
I am also attending another class which is
Tafseer
class. At the moment we are doing Al Baqarah (now 74-82). This is just a wonderful class to go to. I have always love tafseer but not as much as these. And I know what she is doing is nothing heavy pun. Just scraping to help us open more doors. I pray that Allah makes it easy for me (and for you) to go to tafseer class. So we can be carried away savouring the world of the Glorious Quran. There are homework of course. Alhamdullilah english is not a problem to me (I am saying this because I notice English is an obstacle for a few sisters. May Allah make it easy for them). I thank Allah and I pray that I can use this ability for His sake.
After the class sometimes we have
general lectures
on Fiqh and other things. Otherwise normal programme is to review the book
The Ideal Muslimah by Dr Muhammad Ali al Hashimi
.
My lover has started to take up class too. :D :D :D Alhamdullilah. Allah is most Merciful. Makcik suka banget. He is going to the lectures by
Bilal Philips on Tafsir Al Mulk
. It's open for both men and ladies (but I tak pergi). Be there at Fanar mosque on Friday between Maghrib and Isyak.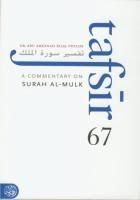 The truth is there are just so many avenues to learn about the deen here. You are really spoilt for choice.
For arabic
: Go to either
QCPI
or
Maryam center
(the one that I go to) for beginners (FREE). For advanced got to
Qtar Guest center
ada for men or for women (ada bayar sikit). Go to
Qtar Uni
. Ramai gak Msians yang pergi ni. (ada bayar banyak). And many more paid ones.
Tajweed
:
Ustaz-ustaz indonesia
. Haziq goes to one.
Maryam Centre
(the one I go to) and
Markaz Mozza
, near Al Waab Street and
QCPI
(FREE). BTW QCPI and Fanar are the same thing.
General Lectures
: Do come to our weekly tafseer and general lectures at
Markaz Al Zahra
(QR200 you get books and stuff throughout the year).
Watch out for
talks at Fanar
(Hussein Yee is coming 10-14th February. So is his daughter. Both of them are doing tremendous daawah activities). The Malaysians do invite a lot of speakers as well. We have usrah groups and such.
Hadith Class
: Every Thursday at fanar after Isyak. Brothers only.
The Lives of the prophets Lecture
: For ladies only. If you have teenage girls I suggest you go. At Markaz Al Zahra on Saturday 5-7 p.m.
If you need details just email me at hudishh@gmail.com. But I am not handling any of these activities. I am just dishing information aje.
Anywaaayyyyyyyy..so much of my grief of coming here before. Ask me now, am I happy living here?