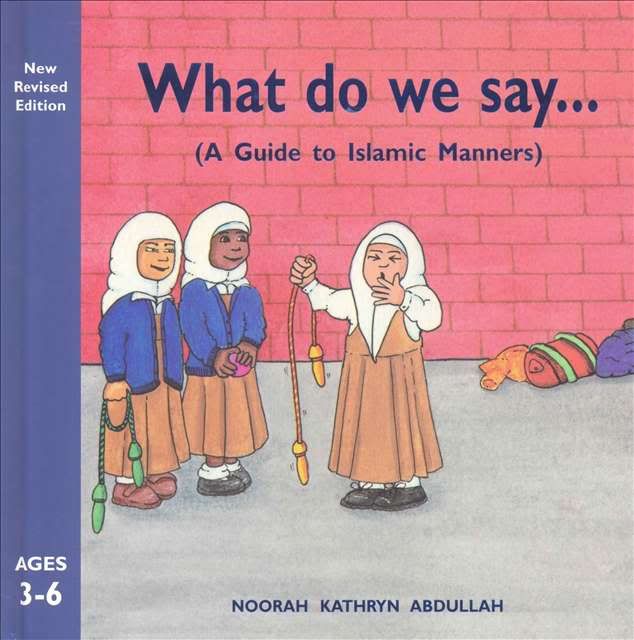 When I only had Haziq, I bought this book from
UKS
entitled What do we say by Noorah Kathryn Abdullah. In the book are basic phrases of what we should say when we do certain things. Like saying Bismillah before we begin to eat and end it with Alhamdulillah.
And in the book also I found this, it says to say Masya Allah when we see something nice or when we see something we like.
Wait a minute! Don't we say Masya Allah when we are angry or see something we don't like? Hmm fonkius.
Anyway, that was my first encounter on the word Masya Allah. But then I rarely used the word back then.
Until I came over here. People often use Masya Allah. You do something good. Masya Alah. You look good (ehem ehem), Masya Allah. So now I am used to use Masya Allah when I praise or when I see something I like. In fact I also learned that when we praise someone, you should say Masya Allah and add it with tabarakallah or Allahumma Bareek. Not only that you are giving recognition that All good things come from Allah, but it is indeed one way to ward off evil eye out of your envy to the person you are praising (another topic perhaps).
So I was surprised when I went for Hajj with my Malaysian friends. They reminded me of how I used to use Masya Allah when I am angry. I really didn't know how to tell them because tak nak nampak macam makcik berleter. Ya Rabb May You guard and guide my tongue.
But nak jadikan cerita, sometime over there some makcik arab would come near us and said Masya Allah. We must have been doing something good. Masya Allah my lady friends. Sometime in the apartment. Elsewhere too.
But the last straw was in masjid nabawi. We were discussing something from the Quran, someone came near us, looked at us and said Masya Allah. Miss L, finally said. What did we do wrong?
I asked, "Err what do you mean?"
Why are they saying Masya Allah all the time?
*Smiles*
So I told them..
Anyway akademik meaning dia is "As Allah may wish" Used on happy occassion, reflecting a Muslim's total surrender to divine will. This phrase is used when admiring or praising something or someone, in recognition that all good things come from God and are blessings from Him.
"So," they asked, "They are not angry at us lah?"
No they are not. (I think kita ni selalu ingat orang arab ni nak marah kita agaknya)In fact they are praising you.
And I added, "Remember when we were at Raudhah, and you were not happy people are pushing you?"
Uhuh, they replied.
"And you retorted and you said, "Please stop pushing! Masya Allah!!". I think they are confuse, ko marah dia ke ko puji dia. Sebab tulah they kept pushing you."
kih kih kih.
"habis! Habis! Habis!" my friends said, "What do we say if we angry or not happy?"
Errr I don't know lah.
Astaghfirullah?
or tell them to istighfar?
Or perhaps if you feel that you are going to blow up, you can say, Audzubillahhi minah shaytoni rojim?
Maybe you can tell me.