Jack fell down and broke his arm
and no one come tumbling after.
Qadr Allah Jack broke his arm a week before raya.
He was jumping at the hanging chain at the cashier counter. Probably miscalculated his jump and fell. It was a short fall but a hard one on his elbow. He cried unlike his normal cries and curl himself on the floor.
It took me a few seconds to asses the situation. I didn't even pick him up immediately but stared at his arm. It seemed wobbly. But didn't look broken. But that is also because none of us either have X-Ray visions nor do we know how a broken arm should look like.
Picked him up a few seconds later and began to swallow that for usual fall he doesn't cry this long. His cries were too little for a boy with broken arm and taking that cue, I didn't think it was serious. But in relative to his other falls, he looked more distress.
Took him to the nearest clinic amd the doctor didn't think it was serious also. But gave us Ibuprofen and told us to observe him for a few hours.
But lover did not buy it. Zachary slept most of he time on lover's shoulders sweating. So we took him to the orthopaedics (spelling?) and had a proper X Ray on him.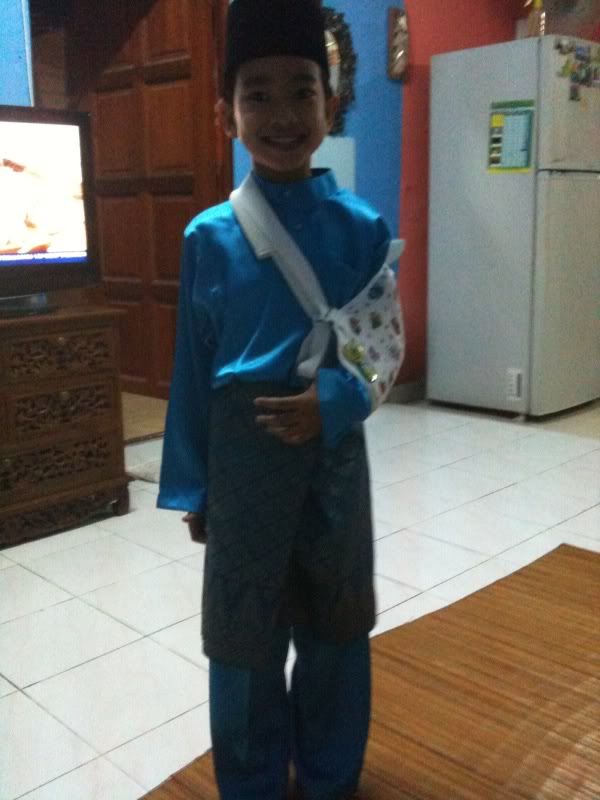 There you go. A broken arm.
Had a cast on him or whatever you call it. t is like a bandage that the doctor wrap around his arm and it went hard a few minutes later. I thought they will slap him with those heavy paris cement. Alhamdulillah for new inventions. Itwill be cracked open in a month, Insya Allah. Obviously in Qatar because I am leaving very soon.
But that did not stop him from being himself a few days later. Still looking very cheeky in his baju melayu.
It is two weeks now that he is in the cast. He can make a fist, display peace sign and play the computer games (!!!!). And also the highlight is he can make sujud with two arms. Alhamdulillah.
Would you give him extra duit raya?