سنسافر الى ارد و سعودي ان شاالله
Sa - indicating in the future time (will)
Nusafiru - we will travel)
ila - to
Urdun - Jordan
wa - and
Sa'udi - Sa'udi
We will be traveling to Jordan and Saudi Insya Allah.
The plan is to move out of Doha as early as possible (ya ka ni?) and we will drive all the way to Buraydah in Saudi. That's about 800 km more or less. Lover doesn't favour driving driving longer than that. Well maybe +1000km is fine and we have driven 1000+ km but we prefer to limit at 800 and have a good rest. And plus, when I plan I prefer to take the night cap at relatively a big town or city where you can easily find good hotels. Otherwise I have to sleep in the motels along the way. Hmm tried it once and don't feel like trying it again. We slept there once. read it
HERE
. Eh in this old post I wrote, we like to limit the drive to 500km. I guess we had to make changes to suit the vast area of Saudi.
The following day, on Saturday, we'll continue to drive to Tabuk, still in Saudi. Quiz : Anyone familiar to anything related to Tabuk in the Prophets seerah?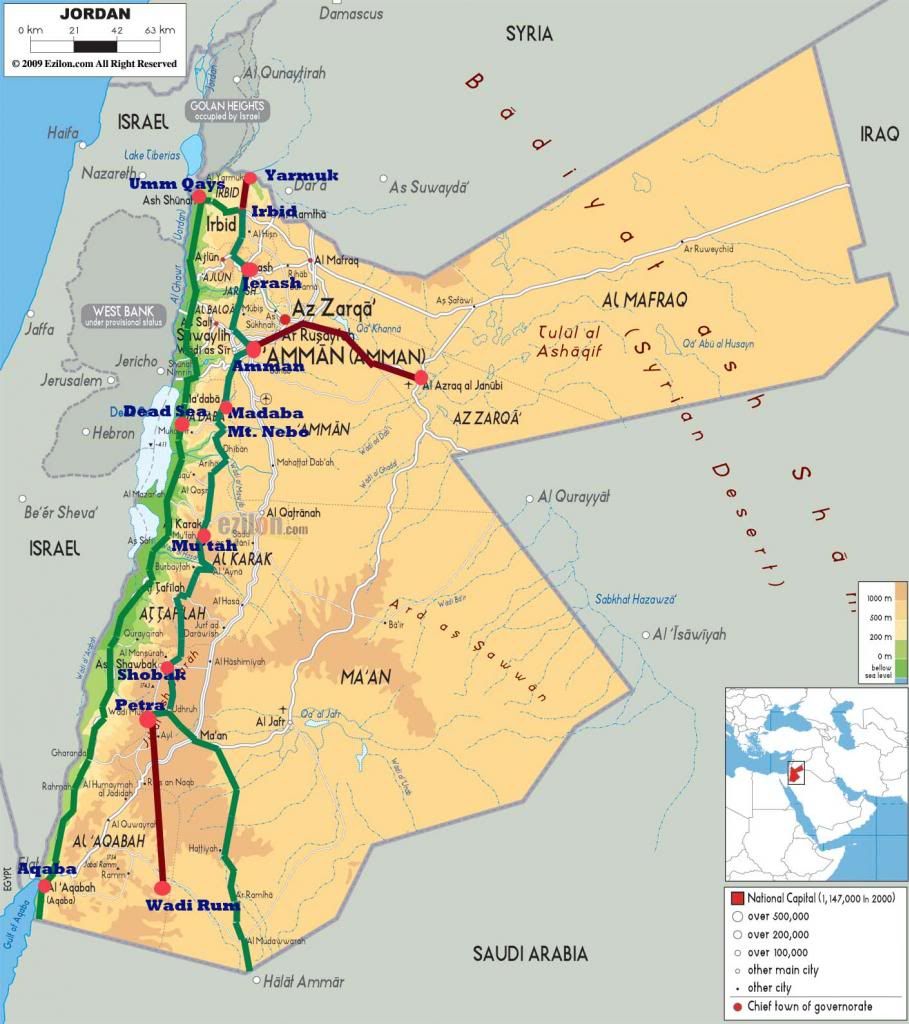 On Sunday, hopefully we can move out immediately after fajr, we will enter Jordan and stop at Petra. We'll be staying there for 2 days. Settle some laundries. And hopefully no issues at the immigration we will get there before noon so we can shoot out to Wadi |Rum down south for some dessert Lawrence of Arabia experience.
The next day we'll walk into Petra. Very likely for hours.
Then we'll drive futher north along the King's highway stopping at some Crusader's castle - Shobak and Karak. Then we'll stop at Mu'tah, pick up a student there who will assist us in Amman later. And of course will not miss the Mu'tah battle field. This is the land of history. Quiz lagi : Who were the famous sahabah who died in Mu'tah?
We will stop at Madaba and Mt. Nebo along the way. This has now become a Christian town in Jordan and they have claimed many of the historical sites as relating to Prophet Musa. But it's ok. Even though we love Prophet musa alaihi salam the same and even more, where he once stood to look at his promised land, didnt become any sacred to us than any other sites in the world.
We will sleep at Amman, the capital city of Jordan for two nights. Hoping to take advantage of some numerous sites to visit in Amman. Also will be driving to Azraq and hope to see some oasis and the Umayyad castles in the desert. And hopefully get to go the famous Habibah sweet shop. Heard the khunafa is over the top.
Then we will drive further north to Umm Qays. Along the way we hope to stop at Jerash for some roman ruins, and at Yarmouk to feel the battle site of Yarmouk for ourselves. And probably Hittin too. At Umm Qays we hope to climb up the hill to view Lake Tiberia and Golan Heights. Hope the weather is good. It's cold, that's for sure.
We'll sleep in Umm Qays for a night and the next day will drive down south to Aqaba for the last leg in Jordan. Along the way we'll stop over at the Dead Sea.
We'll sleep in Aqaba. See the point of Red Sea. Will most likely not dive nor snorkel.
The next day, we hope to go out early and drive all the way to Madinah. And the following day to Makkah for umrah in winter. Can't wait.
I ask Allah that our journey is safe and that we may reap lessons from these journey. Will talk about lesson plans in the next post Insya Allah.
(On second thought tengok lah rajin atau tidak nak letak kat blog.)