Batrisyia was born with full crop of hair, unlike her brother who was super bald. Sya had this spiky hair in her first few months. She was called Don King because of that.
I've always thought that she would have straight hair. When she was one, I could see her curls coming. People are always commenting about her curls, which I must say is quite nice. In fact, I had to perm mine to get those curls..and it cost a bomb and nowhere near pretty like hers.
Sya never had a haircut since like forever. Somehow I like her baby curls, so I let it grow.
But off late, it has been getting a bit too long and slightly unmanageable. So I think, it is good time for a change.
We have been putting off the idea of cutting it, when I say we, I really mean my lover. He was the one who is incredibly worried about Sya's hair. He was telling me, make sure the hair is still nice. Make sure it is not too short. Make sure she still look like a girl. Do you think he is hinting my short hair? Do you?
Anyway, after four years of beautiful curls. Snip! Snip! Off the curls went.
So, everyone, please welcome the new Sya.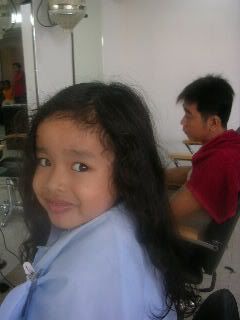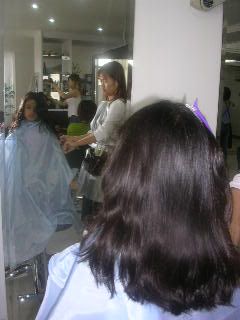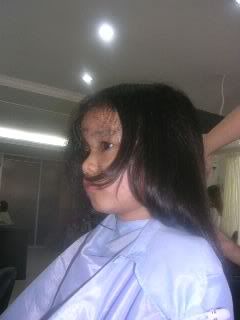 She started off smiling but was sulking afterwards. Now she is okay with her new hair.
But it's not Sya that I am worried about.
Her dad has also given his ok with the new hair.
Phew! Overlah pakcik tu.