This trip was organised by us, the ASS, for any Malaysians who want to enjoy their time in Qtar. And about 28 cars registered, that made up about 130 participants, men, women and children, even babies and senior citizens.
Indescribable! Ahh surely you are bored with me saying that. I have run out of vocabolary to describe fun or exhilarating. The two hour journey on the dunes just beat any roller coaster ride because it is dynamic. The best thing to happen is when a car got stuck. Of course you can only be ok with it if you have proper equipment.
We camped there. It was freezing. It rained during the day too, so the sky was dull. I didn't take much photo of the sea because of the dullness. Definite next time!
Thank god all the kids were ok and were enjoying themselves. Haziq insisted we stick on the bumpy ride. heh! heh! When we do, all of them would scream like mad dwarves. They all inherited madness from their mum.
We had a little treasure hunt game after dinner. This one was not organised by the ASS, rather by the brilliant Dr. Azhar (who was once the VP for MERCY Malaysia).
I lead the smallest group of boys. My son (8 year old), Irfan (an equally young boy), Ashraf (5 year old) and JackJack (2 year old). There were all hopeless at cracking the codes but wanted to win so much. I wanted them to have fun. To keep their spirit up and just because I am a mental goddess, I ran frantically around the campsite shouting
WE ARE SO GOING TO WIN!
WE'VE GOT ALL THE ANSWERS
RUN! RUN!
FOLLOW ME
I KNOW WHERE IT IS
Man I so need the break. These running and yelling without any care or shame is the break very much needed.
I was told later that people thought i was winning and was psyched. Ha! Ha! Ha!
We got no 4.
I couldn't sleep much because I was so worried after seeing a small desert mouse IN the tent. Eeeewwww! Next time we'll bring our own tent.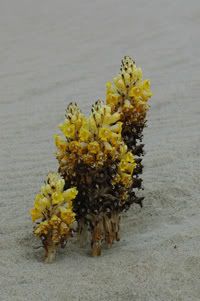 Oh we found some desert flowers. It has one slimy root. It usually blooms out in the winter. Masya Allah!
I was also the official photographer. Ha! Ha! Ha! Now that is certainly joke! Regardless, I am making a mental note to play with the aperture for better depth of field and to try increasing the speed when taking dynamic movement. It was difficult running about taking phoos of people especially during games. Lantaklah ko!
Mr Drive fast took the photo of our car. That's me sticking out of the window, taking photos!



At the edge of the dune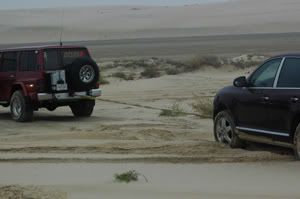 A cayenne was pulled out after it got stuck, The front row is the fellow of the commitee
If you have nothing better to do, you can check out the photos
HERE
.