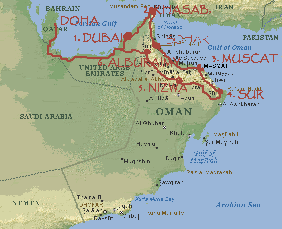 I do not know the differences between fort and fortress though. Perhaps the latter is more of a passive fort? More for a retreat? Oh I don't know.
Oman was a major point of sea trading. Its strategic location made it so accessible for trade routes in the perisan gulf and arabian sea. Oman itself has many goods to offer like frankincense, aromatic gum (ala ala kemenyan tapi better smell), copper and spice. In the old days, frankincense was even more valuable than gold.
Oman also has a long open coastline. It is not surprising that at every major town along the coastline house forts and watchtowers. As you drive along the range of mountain, you will be able to obseve watchtower probably in line so they can communicate with each other. (You watch LOTR, you will understand.)
I only managed to visit just a few forts, one castle and a few ruins. But I was already very impress with the very few.
On the way from Sur to Nizwa, taking the coastal way, you will come to an old town, Qalhat. It used to be a great port and a great city. There were remnants of ancient city walls that you can see. Ibnu Battuta described the beautiful mosque in his travel journal.
The Portuguese came (It is the Alfonso guy) and burned it all up.
In 1507, the Portuguese arrived in Oman and ransacked Quriyat and Muscat and in the following year they destroyed Qalhat, killing many of the local population and burning all the ships and buildings there.
. What is left now is a tomb of Bibi Maryam, a pious wife to the ruler which you are left only to imagine the grandness of the place.
Nizwa fort, the biggest fort in the Arabian peninsula with its imposing 50m diameter tower is fabulous. A great proof of Oman's engineering ingenuity. There are many secret rooms, tunnel leading 25km out to somewhere and false doors. The fort itself is built on a river, such that under seized, water is always accesible.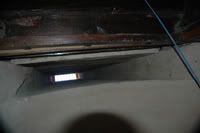 To go up the the fort one has to access a narrow steep set of stairs which has many doors in between. The traditional doors are inches deep with metal spikes and over the lintel of each is a hole through which boiling oil could be poured over the marauding enemies. Those who did manage to run the gauntlet of hurdles risked being scalded by boiling oil or water that was poured through shafts , which opened directly above each set of doors. Date syrup, a liquid that oozed from bags of dates stored in special date cellars, also came in handy as an alternative to oil and water. Eeewwww deep fried human.
Jibrin castle, an hour drive from Nizwa, is like a maze inside. You can get pleasantly lost in there. One door leads to another and suddenly you find you are where you came from. I was slightly worried being in the Jibrin castle for it has so many openings big enough for the kids to look out and fall of the castle. But the architectural was superb. It was a retreat for the imams and also a place to study Islamic knowledge and science.
At the rooftop, you can peek at who is knocking at the front door and surprise them like as if you have kashaf.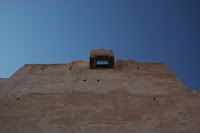 Looking down, and if you look up you can see that you are being watched
Alkhandaq fort in AlBuraimy reminds me like what a fort should look like. Rectangular shaped, watchtowers at each corner and a moat around it.
Many of these excellent monuments were left to rot for many centuries. It was the current Sultan (Sultan Qoboos) who took alot of initiative to restore them. One major fort, which is Bahla fort, has been undergoing restoration for a long time. Bahla fort, half hour drive from Nizwa, was so impressive that it made it into the UNESCO heritage list. And it is indeed a handsome fort. You can still see the old houses made in baked clay and hay and some other material i don't know what, surrounded by a 12km city wall.
Oman has put a mark in the world for a long time. It is now slowly making its mark in the tourism world.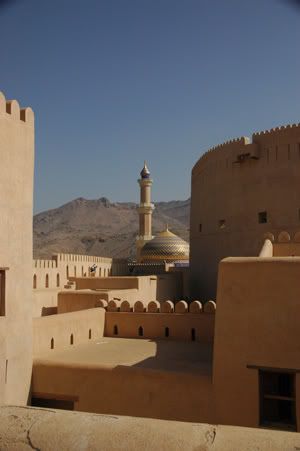 Bibi Maryam mausoleuom in Qalhat, A view from the rooftop of Nizwa fort
Pictures of
SOHAR FORT
Pictures of
BIBI MARYAM MAUSOLEOUM
Pictures of
NIZWA FORT
Pictures of
BAHLA FORT UNESCO HERITAGE LIST
Pictureof
JIBRIN CASTLE
Pictures of
ALKHANDAQ FORT