Hadith (حادث) means accident in arabic. I know it looks so much like Alhadith - the sunnah and the saying of Rasullulah (s.a.w.). I really cant explain it to you for I myself was told that the word for accident in arabic is hadith. ALiya can explain better perhaps.
Anyway, that was what I had last Thursday. Someone hit my car from the back.
I can still remember the moments of the accident based on what I saw and what I heard and what I felt at that time. I remembered that the traffic was really bad that day. I was nearing home and reached a major crossjunction. There was this huge concrete pump truck leading the lines of car stopping. The cars were also stopping for the red lights. Somehow the truck was trying to change lane to an empty lane on the left.
I remembered also, as I stopped, I thought to myself that this is a bad. Someone is bound to be hit. Because my lane was terribly long and the left lane was empty, but most were giving way for the truck to go to the left and no one wanted to go to the left for possibly you would be stuck behind a slow truck (my assumption). While myself took the right lane because that's the way I need to go later.
Like i sad, the traffic had been bad, but at this particular stretch, the traffic was moving and was a bit loose. I felt that those who had been trapped with the nearly deadlock traffic earlier would press the accelerator to release the stress they had earlier. It was a straight road and the chance to drive faster was quite nice.
I stopped behind a saloon car looking at the concrete pump truck. then I heard a loud screech, and I looked at my rear mirror and felt that I was going to be hit. It's almost like a slow motion show. I remembered looking at my right side mirror seeing if there was any cars so I can quickly swerve to the right. But cars were streaming fast. So all I had to do now is just to minimise the impact of collission. I turned the steering to the right a bit and that was when I was hit. BOOM!
And the impact caused me to jerk forward missing by mm to the car in front.
I remembered also after that seeing the cars in front of me dispersed as the red lights turned green.
I quickly went out of the car but not to check the damage but to check out the kids. Haziq was at the back seat. My car is quite long and it was hard for me to check him just sitting in the driver seat.
As I climbed the car, I turned to the man who hit me. My face should tell all I felt. The children were my most worry.
Haziq was OK and calm but noisy, which was a good sign. (he also has a very minor whiplash). Sya woke up because of the hit. Jack the sleepy head was still sleeping soundly in his seat. ALHAMDULLILAH! But I was also worried that Jack was not sleeping but err fainted or something. Upon checking he was truly sleeping.
Then the man came to me and asked whether the kids were ok. I then tried to start the car but couldn't which was perplexing because I was hit from the back. Why can't I start. I called the police. Over here you can dial 999 from your handphone (and not 112(?) or 122(?) like in malaysia) and their response was really quick. The policeman on the line asked me to calm down by telling me to be quiet, I think for the lack of better words in english. :D
So I still could not start the car. I was blocking two lanes and was causing traffic. People were honking and driving fast by me. I was afraid that another major accident would happen. I quickly took the children out. Imagine this, I was in the middle of the road where all the cars were driving really fast. I had to stop cars to allow me and my children to cross. I carried sleepy head Jack and he did not even stir for the next good 15 minutes on my shoulder. Bless my child O' Allah.
The children were all in good spirit. I think it is important that you stay calm and say positive things at this time as not to hamper their spirit. I kept telling them, Allah has actually saved us. Allah saves us. Allah was protecting us. Say syukur. Say syukur.
The man who hit me looked pale and shocked. I actually drew strength from him. Alhamdullilah, knowing that everyone is save and err I was also not at fault. Legaaaa.
Then his friends started streaming in. There were a lot of cheek rubbing and nose rubbing scenes. One of them asked me whether the kids were ok. Alhamdullilah, thank you for asking, I said.
Going back to my stranded car. It was already causing a major traffic at the back. Then a police car came by. Parking behind my car with his red and blue stroboscope lights on, honking at my car wildly. I stood by the road watching him. Since no one responded to him from the car (because no one was there kan?), he came out angrily. Then I waved at him. I said mafi start (what is start in arabic huh? mafi means no or cannot). he didn't believe me and took the keys to try it himself. I actually hoped that it won't start so that I won't humiliate myself. Aparaa.
The car still could not start. Then he called the sheikh who hit me to help him push my car to the roadside. heh heh. rasalah tolak kereta besar bagak camtu. But because the steering was already turned to the right, it was easier for them to push.
(Anyway just for your info, the car could start later on. One of my neighbors went to see the stranded car. he said this is one of Ford's safety feature that upon impact, it will immediately cut off fuel supply. But just press a secret button and the car can start. Taraaaa.)
Then the police belah.
Finally like four police came. The Qat@ris (the guy who hit me and his friends) all surrounded the police and told their story, whatever it was. I stood by the side not knowing how to interject.
Then when they asked who the owner of my car was, the all eyes were on me. Arabia au Inglizia the police asked. Arabiah shuay shuay, I said.
Then I told what happen in my very broken arabic. I still can't string a sentence properly mind you.
Murur Isyarah Akhmar (traffic light red)
Sayarah qif qif and I used hand signals to show that cars are lining up stopping or was it I said wuquf wuquf
Ana qif (I stopped)
thuma (then)
I made screeching sound and BOOM hadith! and I pointed to the sheikh.
That should be quite clear I believe. They took my details. And the man asked me where my lover was?
Aina zaujuki?
My lover was outstationed for a week in Abu Dhabi (ALiya, he also sempat jumpa your uncle there :)).
I said zauji fi abu Dhabi.
I called Mr. Adub who picked me up and sent me and my kids home. And the next day everyone asked why I didn't call them also. Semuanya nak berebut buat pahala dengan menolong aku kan? Alhamdullilah for I have friends like them. Actually I wanted to, tapi eeeii macam overlah pulak. If possible semua I want to call just to make things more meriah. he he
My lover sent the car to the service centre and the mechanic said the damage is quite bad. Oh dear. I am not worried that it would cost a lot for they will be claiming from the guy's insurance, but I know this will take a loooooongggg time. Because kat sini tak ada ketuk-ketuk. Accident kalu they'll change the whole part. And all these are imported and will be slow. And when he said the damage is bad...hmm faham-faham jelah.
You know since my lover was not here this week, I have been sending the kids to school every morning. Usually I would send them if lover has things to do elsewhere or when we sent every other car for service. This week, since I am sending the kids, i get to observe Zachary firsthand playing with his friends. And he was less clingy. On that Thursday, I watched him play and smiled looking at him. He was forgetting that I was there. Then he caught my eyes and smiled and came to me, it's ok you can go now Ibu. He was nervous knowing that I was watching him.
Then, I thought to myself, this is quite nice, sending the kids to school. I know staying at home gives me lot more extra time. And by sending the kids to school i would often be late to my school. But I still love sending the kids to school. And for a moment I wondered to myself, what other excuses will I have to send them to school everyday?
And that evening I got my answer. A hadith saghir. (a small accident).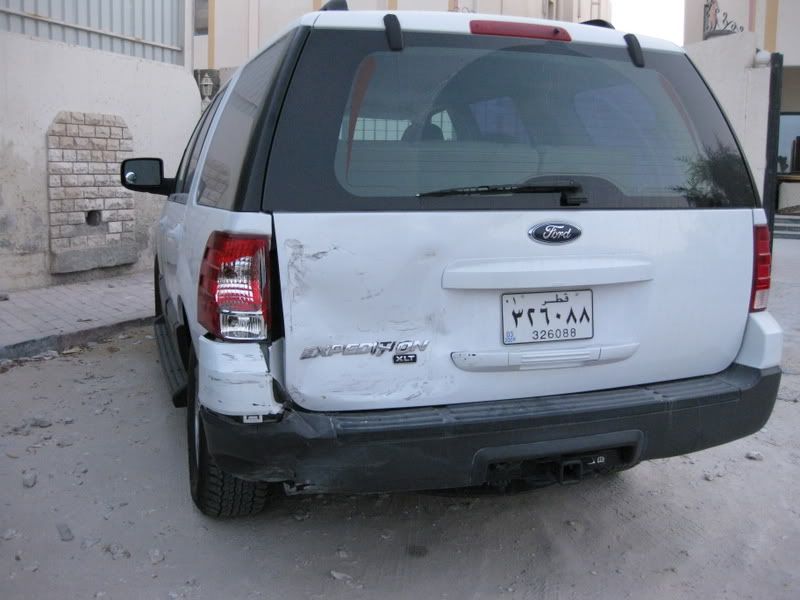 It doesn't look too bad kan? The other car (Toyota Landcruiser) was worse. Bengkok depan dia segala. But bawah kereta looks quite bad.