It was a smooth trip back. Jack slept for 6 hours. He was up and chattering when we flew above Oman. The day was clear and bright with bob of clouds about. We looked out and saw the majestic mountain range of Oman. Breathtaking.
It was good to be home and everyone had so much to tell. Sya kept on saying she missed me lots. She said she misses nenek too.
But not a time to be snuggling the whole day though, we had high tea with the Malaysian Takraw team at Dr. Azhar's house. Of course the whole night, everyone was teasing both of us. Tanya lagi pulak to the kids, "Kena duduk luar rumah ke tadi? (Did your parents lock you outside?)" *Merah telinga*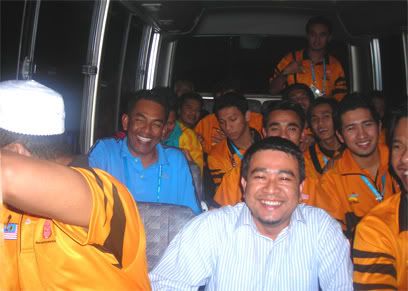 The Malaysian Takraw Team in the tiger stripes. All in the bus ready to go home.
Then without much plan, we all went to watch the squash game, featuring Nicole David, World Ranking No.1 - squash. We left the kids at Dr. Azhar's house. Everyone went in our car. Imagine 8 adults in the car all hype and ready to tease us, the newly married couple. And my lover, somehow, that night kept on making wrong turns. Ayoooo.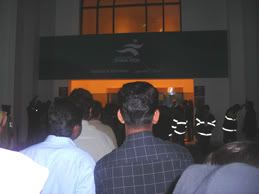 We had tickets but couldn't get in for nearly an hour. We missed Nicole's game. Apparently those who had tickets, stayed for the whole game since morning. We manage to catch the man's game though. It was Malaysia against Malaysia. Ong Beng Hee against Azlan Iskandar. So not all is loss.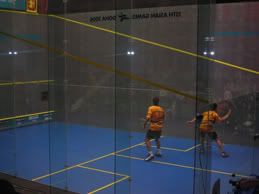 I have never watched squash in my whole life. Now I know that they like to wipe their sweat on the glass doors. And it is a crowded room in the glass door as well. they kept knowcking each other. But then squash is made even more interesting especially when I get to watch Azlan. He was perspiring and kept on wiping his face with his shirt thus displaying his six packs. I immediately want to become a bimbo and throw thongs at him. Oh la la.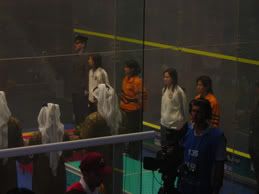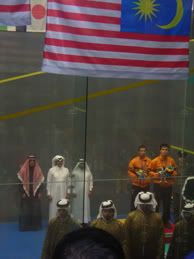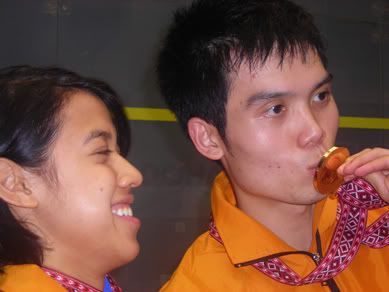 Highlight of the moment was singing NEGARAKU and watch Malaysian flag raised.
Way to go Malaysian team.