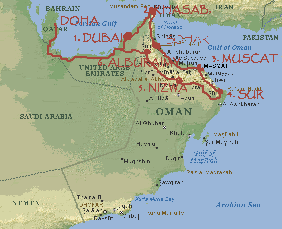 I put here a map of Oman with the route that we took. May it assist you in understanding the places that we went as I shall mention it sporadically here.
On the second day of our journey, we reached Musandam, the ARABIAN FJORDS. Approaching musandam via Tibat (driving from Dubai), you can see the changing landscape and the building up of the rocky mountain especially from Ras Al Khaimah (a state in UAE). The winding road that you had to take to Khasab displays the spectacular view circumfering the western coast of Musandam.
The combination of the rugged mountain on the land and rocky island in the strait of Hormuz (seperating Oman and Iran and in the Arabian Gulf) makes up a wondderful mazes of fjord.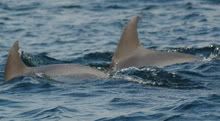 The best way to enjoy Musandam is obviously on a dhow (traditional boat) ride, which we took. (QR150 for half day package for adult or QR200 for a whole day package and half price for kids betwenn 5-12). We enjoyed looking for dolphins even though I was slightly dissapointed that the dolphins didn't perform any acrobatic act. I was hoping for a dolphin friendly act in sync. I suppose when there are too many boats everyday, the dolphins would get tired eh?
Regardless we enjoyed the serene view. I was amazed looking at tiny villages in between the fjords and wondered what it is like to live there. Be rest assured that they do have electricity there. I have been looking at the distribution lines sprawling at the edge of the cliffs (one of my few habits I can't let go).
As we approached the jetty, we couldn't help feeling at awe at the jetty next to the rugged mountain with a little castle and watchtower looking out to the sea.
I like Musandam for its serenity and their slower pace. Older men walked about with an aid (not that they really need it)of a cane cum a small axe. This particular axe called a jeerz is unique in this part of the region. Naturally we bought one as a souvenier.
Food is quite cheap. In fact we didn't eat the hotel breakfast and instead enjoyed the hot paratha outside. With that we were also delighted watching fighter jets performing their routine flight. Did I tell you Musandam was a military zone and was only opened recently.
I was surprised that during one of our lunches we were also served with sambal kicap and cili potong mind you as condiment. Sambal kicap in Musandam!
Musandam, to me, is definitely worth a visit and I wouldn't mind coming again and again.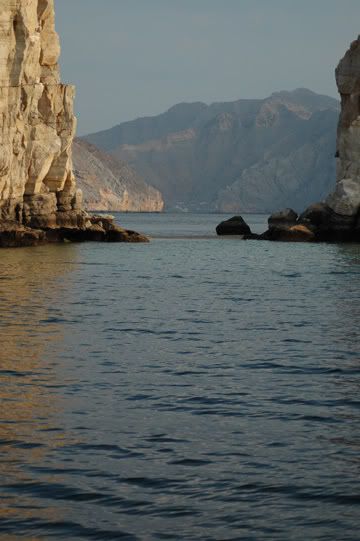 More pictures of the magical Musandam
HERE.