Peace be upon you, How are you?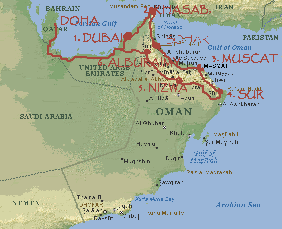 It is easy to fall in love with Oman not only for the beauty of the country but also for the friendliness of their people. They may not be very well verse in English but the universal sign of smile and nod and wave is at abundance. They are humble peope and are always ready to help whenever they can. That made us feel safe and very much welcomed.
I was surprised when so many people waved and smiled at us when we reached Musandam. Even more men waved at me when I am sitting alone. Hmm...scratch chin.
I find it quite strange when a family of a bearded man wearing his normal dishdasher (typical Arab white robe but Oman's one is much simpler) and the woman in full black abaya, face fully covered and lttle children waved at us frantically with big smiles as they drove past us in the village Qalhat (near the town of Sur). That you can never find in Qatar.
Their friendliness comes in handy especially Oman is not well eqipped with signboards. We kept having to ask people whereabout a certain place is.
In Musandam, we were trying to find a prehistoric rock painting in one of the villages in Musandam. We were already in the area but somehow we couldn't find the place. No signboard remember?
In case you are using this entry as your reference, I shall try to explain how to get there.
The ancient painting can be found in the village of Qida which is along the way from Tibat (Musandam's border post) - Khasab. As you enter the village you wil find dates plantation along the way. Drive to the end of the tarmac road and you will find a madrasah (school) on your right. Do not be surprise with the graded road. Drive along for a few hundred metres you will find an unused hand-pump well on your right and a big boulder with a small door on your left. The boulder is actually a little barn for the goats. Then you are at the right place. You won't be able to see the carvings immediately. Get off the car and do a little bit of exploration in the scattering of rocks around the boulder and be amazed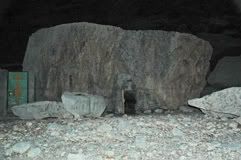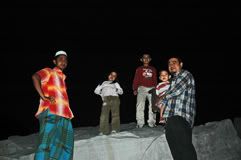 The big boulder which is the house for the goats, that's the man who helped us.
Anyway there we went asking people. With my limited basic Arabic and sometimes their limited english, we both tried our level best to convey our message.
Always start your conversation with
Asslammualaikum, Kaifa Haluk
For they will also do the same when they talk to you. And when they ask me
Kaifa Haluk?
. I will always reply
Tamam, Alhamdullilah (Excellent, Praise to Allah)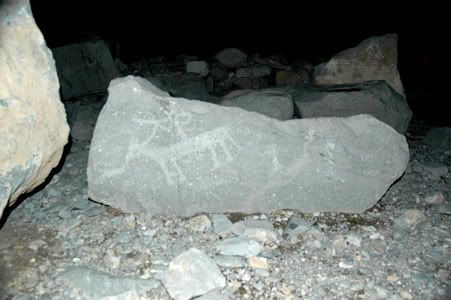 The picture says "Me the HUNTER was here"
More pictures of the prehistoric rock painting
HERE