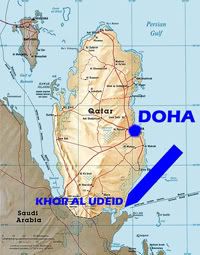 This is not Oman anymore. This is now Qtar. A short intermission.
Kh0r Al Ude1d, or the 1nland Sea, in the extreme south-east of the country, is a place of spectacular beauty known to many as the Desert Wonder of Qtar. This is a large area of natural sand dunes, surrounding a calm inlet of the Gulf. The sea pierces through the land to dig a long channel of water into the desert island.
For this reason the site is called "Khor Al Udeid" or The Inland Sea. Khor when translated from Arabic to English means Inlet.
The sea first surges through the land to divide Saudi Arabia from Qtar and then curves to create a shallow lake. Also truly amazing are the pink cliffs that rise on the Saudi side of the inlet and the pure white dunes that line the Qtari side.
The dunes are quite stunning - tall, shapely sand masses formed by the prevailing winds and subject to radical overnight changes of shape. By day, it is like a lakeside beach resort, the sea traveling across tidal flats to form an "Inland Sea". By night, an awesome landscape of towering sand dunes takes on fabulous proportion, the moon and stars adding a sense of timelessness and pristine quiet. At sunrise and sunset one is gifted with a breathtaking display of colour, glowing shades of pink, purple, gold and magenta. The virgin beaches and majestic dunes are of a charm and irresistible enchantment.
Half the fun of going to the Inland Sea is getting there - there are no roads leading there, and the entire trip is made with 4x4s through the desert and through the sand dunes. The Inland Sea is only accessible through a kind of Desert Safari-style trip. This daylong trek in a four-wheel drive vehicle runs to southern Qatar, journeying 75 kilometers across the desert, 45 of those being off the beaten track.
This trip is designed to acquaint visitors with the lure and expansiveness of the desert, and the professional drivers take you on a roller coaster ride of your life as you propel up sand-dunes rising up some 50 metres, and carry on down the other side.
Once there, you can test the waters for a refreshing swim, or scramble up the sand dunes on foot. In the quietness of the desert, far from the trappings and hubbub of city life, the quiet strikes you, with no sound but the breezes and the shifting of the sands. Or try sand skiing, an easy thing for those experienced on snow, and a soft landing for those who try skiing for the first time!
Like they say when you are in Rome, you do what the Romans do. Thus when you are in Qtar, you sanddune! Have a try at the Inland sea, the desert wonder of Qtar!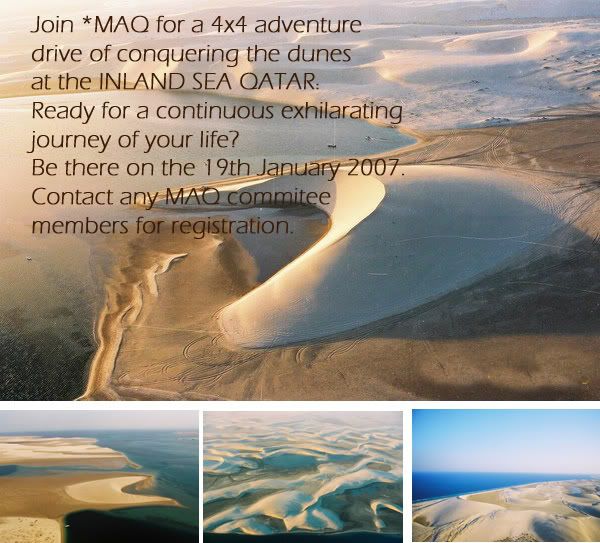 And that ladies and gentlemen, is where I am going tommorow.