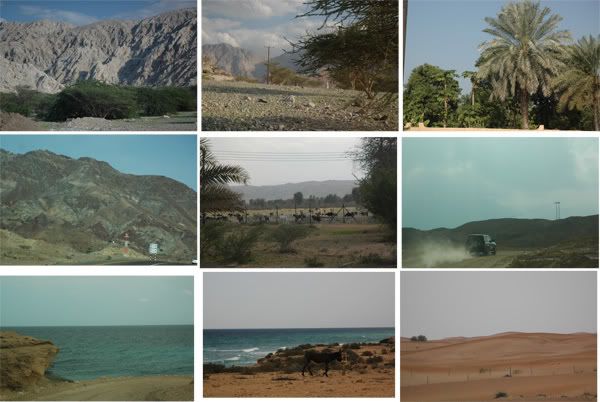 That was my escape clause to lover each time we didn't see a signboard and got ourself on an intersection or when I take him on a graded road and pretend that that is the only route available. I told him at the end of the journey that there is a hghway from Muscat to Sur. But hey wasn't the coastal road sceneic despite some are graded? And part of the road was actually river bed? Wasn't it exciting when we went down to collect some river rocks nak buat tuam badan nanti?
The funthing about traveeling in a car through four countries is it allow you to view the changing landscape from one place to another. As we drove out from Qatar we saw rocky barren flat desert*yawn*.
As we enterd the 45 minutes journey from Saudi to Dubai, there was more of the uneventful desert *sleeps*. However following the coastal road in the UAE towards Dubai, the desert sand are finer and have slight rose tint. Om your left is the barren beach and on your right is spans and spans of transmission lines (400kV.
We passed Abu Dhabi at night and there it was, the capital city of UAE, brightly litted as far as your eyes can see. Seamless to it is finally Dubai with tall skycrapers and bright neon. Shopping complexes along sheikh zayed road bisa menggoncang iman mereka yang berduit.
Ras AlKhaimah is where the majestic mountain begin in your journey. Strips of Hajar mountain runs from the south of Oman all the way up to Musandam. And we were like "jakuns" (at awe) looking at the mountains and I started clicking away only to be surprised with even grander view in Musandam.
The first photo is a view in Ras AlKhaimah
. Short shady accacia trees everywhere adding decoration to the rocky mountain. Certain plot of fertile land has patches of green grass adding a carpet look.
Second top picture
Driving downwards to Fujairah and back to Oman, you can see rows of stalls selling fruits, carpets, potteries and nurseries. It is like a combination of Sg. Buloh and Air Hitam (Kluang).
In Sohar and and along the way the scenery was alomst like Malaysia. the wadis plant banana trees, mangoes, papayas in between the dates.
top third picture
Stationary rock does gather moss. Some more fertile areas are blanketed with moss
Second row first picture
We saw lots of this on the way to Nizwa near the wadis.
I particurlaly like the traditional way of goat rearing. With shepards taking their flocks to greener grass.
Second row, second picture
The route from Muscat to Sur was partly on graded road. Yeah if a car is infront of you, it is quite dusty.
Second row third picture
. But the view of the dramatic coast was worth it. Next picture.
There were lots of donkeys around here in the south of Oman.
last row, middle picture
And desert is amazingly beautiful. The last picture was rose-tinted very fine sand desert somewhere in AlAin.
Not to mention the people we met, who took their time to talk to us. These are among the little experience we get throughout the journey.
I saw watchtowers on the mountains. Perhaps I can understand better looking at aerial's view. I imagine they blow horns or light fire when they see troops of armies or horses galloping across the mountain.
You can see and understand that life can be harsh living in desert, among the mountains, sherperding the goats, hot desert in summer, freezing desert in winter nights, the journey that ancient traders took to take goodies out.
All these make one humble. All these make you understand how people live their life in other part of the world and what make who they are. And what makes who you are. And how in the end, we are all the same.
p/s : sorry nonah terpanjang pulak