Alhamdullilah we didn't have much problem throughout our more than 4000km drive in two weeks. Even going through the immigration and custom having to drive through Saudi, UAE, Oman, UAE again and then the bigger Oman and having to repeat nearly the same thing on the journey back didn't pose any problem except for slowness.
However there were a few occassions that left us with a knot in the stomach.
Like for instance when we driving on the highway cutting across the vast desert and the crosswind was really strong. When we overtake a lorry, some form of air pocket forming forcing us to sway about. Worrying.
Going through some unfenced and unlit road, we were made surprise by some huge black thing by the roadside. It was a group of camel huddling up around some bushes. They are huge. I tell you! Huge! Their body is like at the height of my window. I have read many fatal accidents due to collision with these quiet beast.
But my experience getting out of Musandam must be the tightest knot in the stomach ever!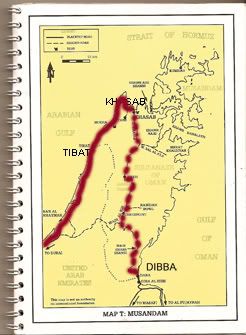 So I was the sole navigator throughout the trip. Thus I had the perrogative to choose whichever route I fancy. So to get back the other side of Oman I decided to follow the route from Khasab to Diba and drive through Fujairah and get back to Oman and finally stop at Sohar, Oman.
I knew it was graded road but I was ready to take the chance seeing that the route is shorter plus the drive from Tibat to Ras AlKhaimah would be like a revisit since that's where we came in from. Boring!
But what I didn't know was not only it was a graded road but it was mountanious as well. If I could redefine breathtaking, I will. The view from the mountain was breathtaking. Grandeur. But our breath was stopped short driving through the road. It was graded road full of rocks some are big and sharp. Lover was worried that the tyre would pop. Some of the roads were narrow, we were worried we would topple over. Eeiiiiiii. Some are so steep, we didn't know what to expect on the other side. Sometimes another steep downhill with a sharp U-turn right at the edge of the mountain. Looking at the big boulder on top of us, we were lucky enough that none fall on top of us.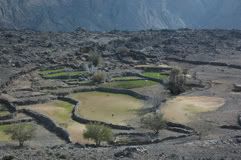 But occasionally we were surprised going round the rocky mountain. You cannot believe that amongst the dry rocky, there are patches of cultivation plot. Cleverly designed to trap water especially during summer.We found some mountain goats climbing effortlessly on the steep rocks. And as we drove through the ridges, we found ourselves driving past a big plot of land (called a bowl). Dates, alfafas are grow in abundance. How they live here, I cannot imagine. (there is electricity not to worry).
We were so relieved when we finally came to the last bowl called the Raudah bowl. We stopped to let the kids hang out and take a leak. Batrisyia was complaining about the mountain drive endlessly that she kept repeating it until today. It was kinda scary.
We finally came to the checkpoint only to be further surprised. There were soldiers instead of immigration officers. Instead of letting us through like usual, they told us to go back and go out of Musandam via Tibat. But we took two hours to get through the mountain good sir. Nope, they persisted, only Omanis and Emirates can pass through here.
You cannot imagine our frustration. Just thinking of driving thorugh the ordeal made me shiver. Suddenly dark clouds came over us. Literally! It was going to rain. So we had to double up the speed before the rain pours. I just cannot bear the thought of driving in the rain on a graded road so steep you can slip back and drop off the cliff. Ahhh!
Anyway we made it safely and the return journey took us one hour. Perhaps it was the fear of rain or the confidence. But it was not so bad the second round.
At that time obviously myself and lover did not talk as obviously he was angry. But now looking back, it was a good experience indeed.
Today we can laugh and marvel at the photos. The photos can be found
HERE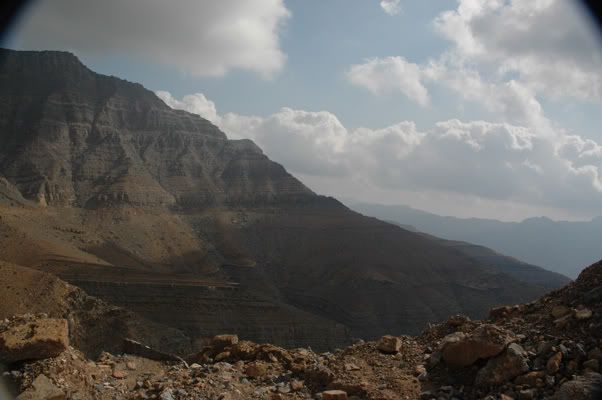 The roads carved out of the edge of the rocky mountain