Oman is blessed with wadis and beautiful ones that is. Visiting Oman wouldn't be perfect without visiting any wadis. You can wadi bash here but we didn't do that one because we are not familiar with the terrain. If we go again I think I'll get a guide to take us there. You should too!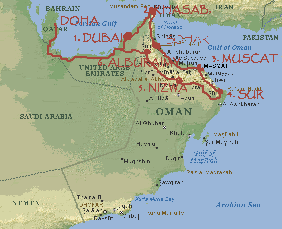 We visited one wadi though where we were sure that it was good road leading to it. It was near Sur, the route going to Nizwa. But what we didn't know was to get to the wadi itself we had to climb steep terrains. It is not likecliffhanger thing, but if you have three boisterous kids and you are wearing a flimsy sandal, then the terrain is worrying.
There were the local kids who were excited to help (in exchange of money). We didn't want because we thought the short walk to the wadi is well paved. Man were we wrong. I finally had to succumb to them because I couldn't even balance myself (damn sandals!), let alone jackjack and the kids. And the local boy just scopped jackjack and place jack on his shoulder and guide Haziq and jack through the steep terrain. Ayoooooo I was out of words. Wrong step and there goes jack with the rest of the kids come tumbling after. Gulp!
But as usual, it was worth the trip. The wadi is spectacular. I learned about wadis n school but I never know that it was that amazing. Amongst the dry rocks, here we have streams of freshwater from the ground and some from the mountain top. As we drove through the winding road going there, you see nothing but dry mountains but here it is the secret of the Arab world. Water.
And water as we all know creates civilisation. There are small villages and plantations of the typical plants like dates, mangoes, bananas and so forth. Work goes on here as we splash a bit in the wadi.
And this is just one of the hundreds of wadis in Oman.
The green green water of Wadi Bani Khalid and look at the guy scooping jack up on his shouldres going down the terrain



Wadi Tiwi, along the coastal route Sur to Nizwa
To view the excellent wadi bani khalid click
HERE
.