I have always like taking photos. Like forever. When I was 13 (we didn't have a camera), I have always liked looking at pictures in the magazines. I would cut out pictures that I like and paste it in my secret oh secret scrap book and named it.
I only got myself a second hand camera when I was in my second year. And since that I have always taken photos of everything except myself. I would look at the photos for hours and would sort out the ones I like. Some special one with a little technicality applied or I simply like the composition, glued in a scrapbook. Mylover is used looking at me flipping photos (then). Now I would be glued in front of the computer looking at the photos I took.
Having said that, I am not saying I take good photos though. The point here is I like taking photos albeit plain and all. Shutter speed, f-stops, depth of field escape me. And my composition really, entah apa-apalah.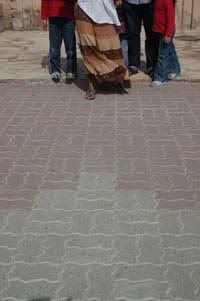 The problem with being the only one taking photo, I rarely get my own picture taken. And worst still, we rarely have family photo together. Especially when we travel. Sure I have tripod, but I am too lazy sometimes to drag it everywhere, along with the camera and lenses. Makcik malaslah kekadang.
But oklah, I use the tripod sometimes. Still too lazy to tighten certain screws. And this is what we got.
Ha ha ha. There I was running to catch the camera before the camera's weight overcome the tripod and drop on the pathway.
And sometimes I do want my photo taken. Ask someone to take it for me. And these are what I got.
Blur. Image too small, you could hardly see me. Or i look too fat, you couldn't even load it up to this site.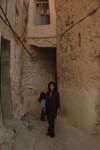 Blleeeerggghhhh.