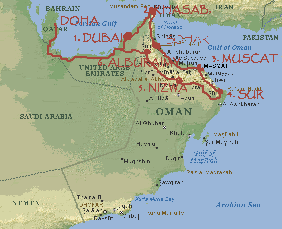 I think that is about my salient points of my happy hours in Oman. Well, sure there are other things, but you wouldn't want to know that would you?
Surely you do not want to know that I went to a traditional boat factory in Sur. I am clueless about boat making. They told me its traditional way thus it must have been. No big docks. No fancy cranes. I was also told the insulation still uses shark fat. I don't know how mush is needed. For a boat this size can cost you about 300 thousands which I thought was not too bad.
But what do I know?
I had KFC in Ras Al Khaimah. And I still like KFC in Malaysia.
But you already know that.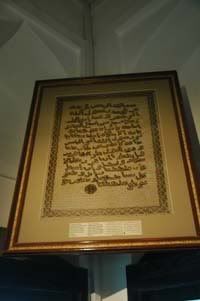 That the fact that Sohar, traditional capital of Oman was the name of Prophet Noah's descendent. And it was so famous that it was the birthtown of the fictional Sinbad the Sailor from the great book 1001 Arabian nights. Sohar was the state that first embrace Islam when our prophet Mohammad (peace be upn him) send his message in year 630.
We went round and round the Wajaja area (north of Sohar) to look for the blue pool. We found the exit to the little village. Had to cross a small stream to get there. It was raining. Then the graded road become narrower and started branching out. No signboards anywhere. At the back of my mind I was worried that the stream level would rise when the rain started getting heavier. So I decided to not take the risk. I hated that actually.
So what is there to tell when I didn't even get to see the place.
Just like when I was looking for the town Bat to find the strange bee hive tomb. It was getting dark and we are already late. The road became so quiet. Perhaps because it was Eid Al Adha the next day. I had to abandon that.
Boring eh?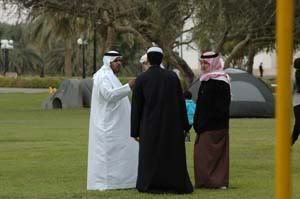 In Al Ain Hill Archeological park I saw four men intensely talking to each other. They are wearing different style of Arab headgear and dishdash.
But well so they wear that everyday eh? You don't need to know that from me.
Or or or in Al Ain we decided to wash our car. It was already too dirty. And we went to the automated car wash. That's the first time for the kids. First time for me too. I felt like a kid myself. And gleed in delight.
As you can see, I have nothing more to tell.
Well maybelah, we'll see.