Heh heh it was Haziq who was on tele. And it was the AlJ@zeera Children's Channel, which I have just found out that it is only aired in the GCC and some part of Europes. Even I have never watched it. Elisa, apparently it is on Nilesat. It is an Arabic programme. That figures.
Anyway Al J@zeera Children's channel launched
a retail store selling children's stuff
last Friday at the Vill@gio, one of the biggest malls here in Doha. And Haziq, well, he participated in modelling the store's merchandise.
In short Haziq did fashion modelling. Hahahhahahha. He did the cat walk! On stage! In public! On tele! Except that err no one get to watch itlah.
It started sometime the week before last, when the embassy called us and told us that AlJ@zeera wanted a Malaysian boy and girl around 8-12 years old. Somehow, the wakil ambassador thought of Haziq. then I got to talking with the agent. She said he needs the Malaysians to parade our national dress for some launching I don't know what. I said OK. It would be exciting eh?
However, the next day she texted saying that Al J@zeera already has their Asian kids and costume, so they don't need Haziq. I said OK. Nothing lost there.
But then, the agent called me again the next day and said, you know what, why don't you send in Haziq's photo and we'll see from there. I send one. Apparently it was a va va voom photo. The agent loves Haziq instantly and put him back in. The other Malaysian girl was out of the story it seemed.
And that was it. He went for practice nearly every night. And met a lot of other kids of different nationalities. Started off nervous and shy but took off afterwards with the rest of the boys and infact had to be told off for playing too much.
On the day, he started off parading his national costume and after that he walked about the stage showing off the store's merchandise wearing the store's shirt as well. And then they were laughing, playing an imaginary guitar and high fiving each other on stage. He enjoyed himself alright.
The only thing was I couldn't get good shots of him that night. The crowd was rowdy and most people in front of me are taller than me. :( The only time I get to snap was during rehearsal.
There was one time I got a good snap. I was in front of the stage, smack at the the centre. I raised the camera and snap at the most perfect angle. Alas it was not a picture of Haziq but the Egyptian couple. And after that I got told off by the crew member that my camera flash was spoiling their shoots. :(
Anyway photos of the night can be found
HERE
.
It was a good experience for Haziq. He met alot of new friends and learn something new. He still look a bit stiff walking on stage, but it does not matter. He was happy.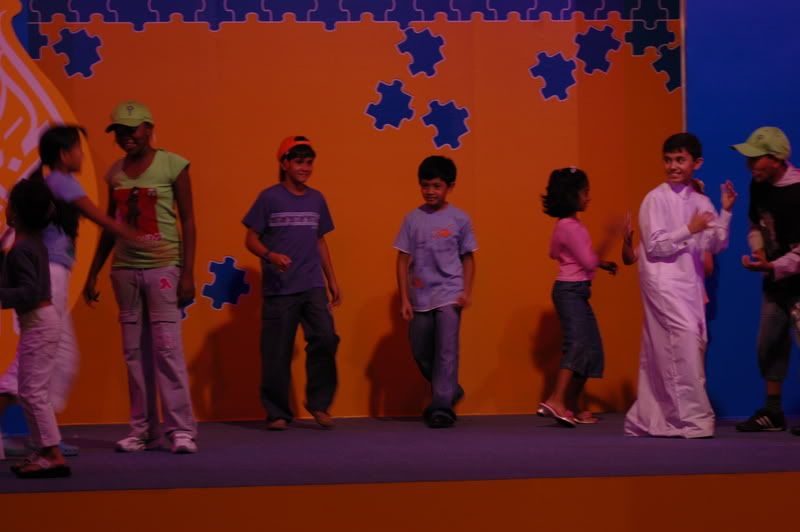 gambar rehearsal ajele nampaknya