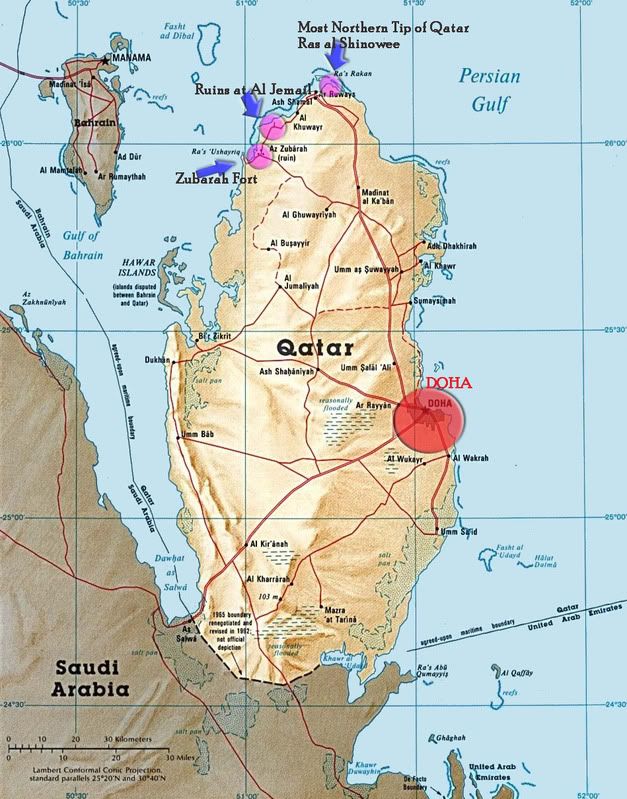 Man! I haven't been going around Qtar for quite sometime. I think this mostly was because I was busy with the ASS, meetings and events and all that. There never seem to be a quiet weekend. And then there was also the dunes. But it is so hot now, I dread to go to the dunes and get my skin burnt under the hot desert sun.
let me check when was the last time I went somewhere new n Qtar. Hmm..Ahah! It was the camel trip.
HERE
. Goodness! That was August 2006!
Anyway it is hight time to go places that we have never been. So I said to lover, why not go to the north. And he said why not. He then decided to get some friends to go with us as well. So to the north of Qtar we went.
As usual, a map to guide you along.
We went to Zubara which is about 90km to the North west of Qtar. There is a fort there called surprise surprise Zubara Fort.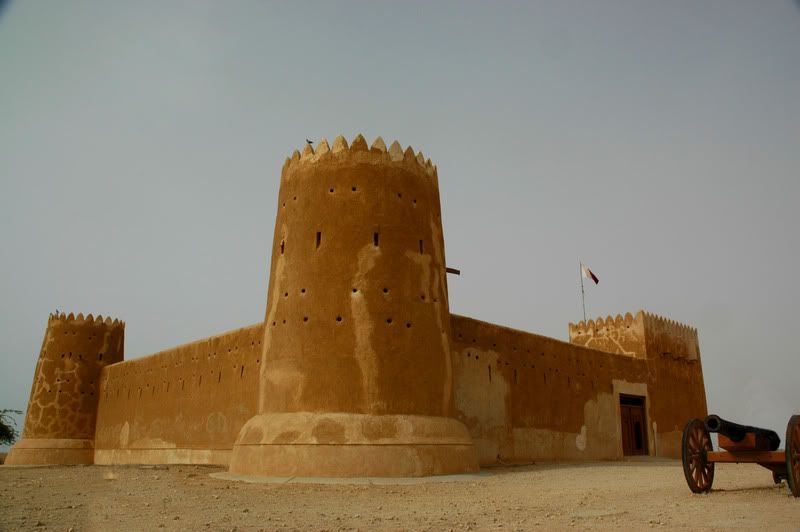 I wrote a little about the history in my multiply.
Then we drove up further north and stumbled upon ruins of village. We were leading the entourage (cewah) because we were the only one with GPS. Mr. Fath was trying to persuade Mrs fatah to get a GPS. I must say to travel in the middle east, it is quite a useful gadget to have. Because the tourist map is not sufficient and the signboards are almost non existent. I read in someone's blog about his trip to Zubara and they got lost and took pictures at the backyard of someone's house which they actually thought were ruins of the fort.
You can see the map I attach here. The tourist map is almost like that. It shows a straight road to the fort, whereas to go to the fort requires you to make a sharp u turn and turn at a junction which looks quite insignificant plus there were no signboard. *roll eyes*
Anyway my lover loves the ruins. We came up with theories to what happen to the village. The village is just a walking distance to the beach. I can almost imagine what it was like in the old days. I imagine the children running to the beach day in day out, collecting shells, going further into the sea because the beach is so shallow, swimming to their heart content. Their fathers are most likely fishermen or pearl divers. They have sheep and perhaps a few camels. Their life was simple and everyone goes to the mosque to pray. Their mothers bake their own bread, make their own labban and goat cheese. They wove their own rugs. And they shout calling their children to come home for their dinner.
Digress.
We stopped for a little picnic at the most northern tip of Qtar, Al Shinowee. It's a quiet beach with a little fishing activities. the children collected small shells while we ate. Mrs Adub brought, what she claimed, an express food. nasi lemak bungkus in daun pisang and homemade karipap. *terbeliak mata* Itu express food ka? pengsan. I brought only fried noodles and keria.
When it gets dark, we moved on and pray at a little mosque and continued our journey home. We stopped at Al Khor first to meet up with our Al khor friends. And makan some more. I thought I was quite full, but I managed grilled hamour (garoupa) with butter lemon sauce. Boleh?
Everyone enjoyed this sweet day to the extent one of them suggested that we go for a convoy somewhere next time. Somewhere meaning places like UAE or Oman. Hmmm
hmmmm
hmmmmmmmm
They are really great pals. I do enjoy being with them.
The thing is I have never done convoys. I prefer small.
When I went around UK, the most is four in a car. Backpacking in Europe is just me and my chum. Turkey, me and my chum again. I am even willing to travel alone.
You see, I am inefficient, slow and I like things my way. I like doing the planning and enjoy being wrong executing them. Remember when I went to Oman and got myself in the mountainous road to nowhere? read it
HERE
. That is my kind of traveling.
I am not sure whether everyone is up for it.
Oh for pictures click
HERE
.