Last weekend we went out aimlessly again. And we chance upon a camel farm at the side of the road. Lover decided to get off the highway on to the bumpy road so we all could go take a look at the camels. Camel farm man! Them camels! How many have you seen a flock of camels in a big cage? Wooo hoooo.
We got there, went out but I didn't because Zachary was sleeping on my lap. The kids went out excited. The moment we came out, the camels were all then staring at us. They really like to look and they came nearer. It was almost intimidating. But such photo pleaser.
There were different colours. The young ones have nice cream coloured skins. The older ones are darker. But some are black camels. Some are hairy. I didn't know they have hair on their hump, and they do.
The camels are really huge. The one in the pictures are actually the smaller ones. An adult camel can reach up to 7 feet high.
Then we saw some men who were tending the camels. My lover waved at him. We were not sure whether it is okay to go to people's camel's farm and take pictures. The man came, smiling. Good sign I think. Then my lover greeted salam to him and said,
"Ana min Malizia. Malizia lak jamal." (Wrong grammar of course. I am from Malaysia. Malaysia has no camel. )
Then he showed camera and sort of asked whether we can take photos. The man said ok ok and laughed at the kids.
He was probably thinking, God why would anyone wants to take photo of camels. But we are foreigners. And like all foreigners, we gawk with mouth wide open at anything different.
Then the man came back apparently with a bowl in his hand. He then gave the bowl to lover. It was a bowl of milk. Camel's milk!
I thought that was kind of him to give us the milk. Really we were surprise. But it was a BIIGGGGGG bowl. And lover doesn't drink milk. So guess who had to drink it? At normal times, I really do not mind drinking it. I think I am quite adventurous. But do allow me to take a sip. It was a BIG bowl ok. And we were also at a camel's farm. And camels shit where they live. So it stinks. There were dunk aura in the air. But the nice man was looking at us smiling thinking what a good deed he has done. The last we want to do is offend anyone.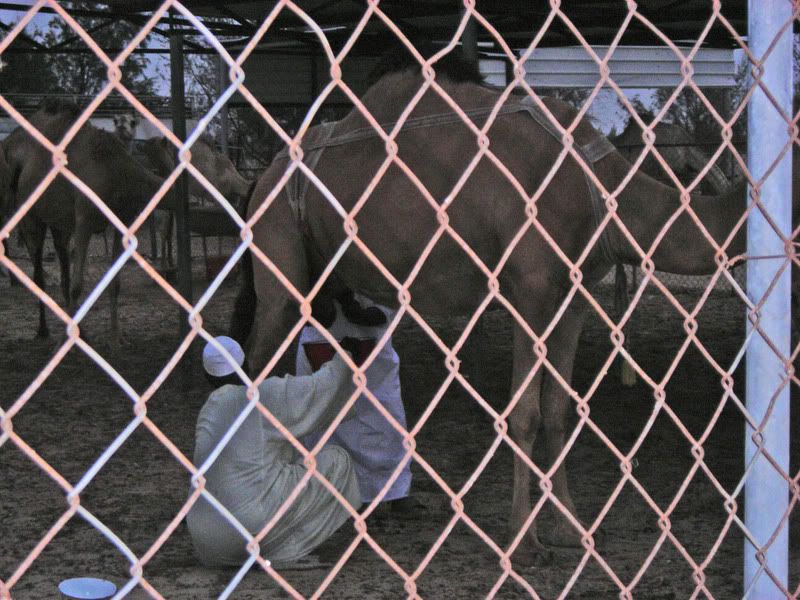 I am telling you, I really had to psyche my mind to drink. Focus! Focus! It was almost becoming a fear factor series. So I drank. It tastes like milk. Hey! It is milk. Except it was creamier I think. And the milk was warm. Oh yes! I saw the man milking the camels earlier. Don't lecture me about pasteurise ok. I had warm fresh camel milk.
Did you know that camel milk is believed to have health properties? The Bedouin tribes also believe that it has great curative powers if the camels eat certain plant. But wait there are more,they are also aphrodisiac! Ehem! Ehem! Look at me slurp the milk from a bowl and let the milk trickle to my chin is aphrodisiac itself. Except that my lover was staring at me in horror.
Anyway I didn't finish the milk. We had some mineral water bottles and pour it there instead. I boiled it later at home. Sya drank it and she likes it. Haziq sipped it but that's it. Lover had to finish the rest as well.
I think those camels are breed for racing. We saw them harnessed as such. Some of the male camels had their balls wrapped up. I really do not know why. My theory was they wrap it so it doesn't get in the way when they race. It is kind of big. Or could it be to restrain any humping with the female before the race day? Don't know lah.
So that was one surprise trip.
Tara for now.
Lollies, the new host of Lonely Planet or whatever they call it now.
---
Anyway. The arabian camel has one hump. They are referred as dromedary. Also found in North Africa. Generally in hot climates.

There are also the two humps camel found in mostly cold Asia climates called Bactrian.

Their humps are a reservoir of fatty tissue, while water is stored in their blood. Through some metabolic process, this convert into energy source. This allows them to survive without water for about two weeks, and without food for up to a month.

---