Yesterday was the first day of school this term for the kids. It was a drag (for me) after two months of blissful dormant mode.
The news is, this year round I am sending all the three kids to the same school. This was mainly because Sya's school fees has increased to 60% more which if I stayed there I would have to top up. It was a sad thing to leave and a bit of drama too.
You see, Zachary was already accepted in Sya 's school (after entrance test and all) and I had paid deposit of QR5000 to secure a place. However later on, they announced the hike in the fees which sent my lover to jittery. Thankfully I made back-up plan for Sya and Jack. I applied for a placement at Haziq's school. They sat through an entrance test, (which batrisyia failed last two years. remember?) read
HERE
.(roll eyes. And they were accepted.
I initially did not want to move sya and Jack. I love Sya's school. Sya already establish friends there. But finally, I gave up because lover is certainly not happy to fork up his money to put them in the school.
The next trouble was they refuse to return the deposit and in fact demanded half of Batrisyia's term 1 year 2008/09 fees, which was another QR5000. Without this, sya will not be given a release report of which without it, the company will not pay any money to the new school.
I wrote a long love letter highlighting also my active participation in school for voluntary reading and all. Finally they agreed and charged me only (bleargh) QR2,500 which otherwise would have been QR10,000.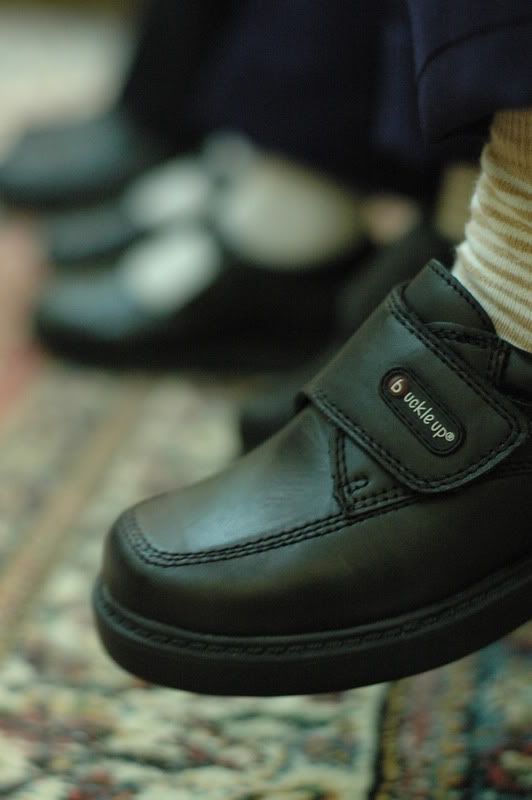 Anyway they are all now in the new school.
Jack was excited and woke up super early. What is not to be excited about?
New shirt. Same like abang's
New trousers. Just like abang's
New bag. Spiderman
New black shoes. Same like everyone.
And the best thing is everyone is going to the same school.
When in school, then only jack found out going to the same school does not mean they are in the same class! When I came back to check jack out after sending Sya and haziq in, I was told that he wept. i was also advised to not let myself be seen by him.
The teacher told me that he wept twice and was very quiet.
he also peed in his pants! HORRORS!!
This morning going to school was not really an exciting event for Jack. I sat with him for a while. Ask him to take some toys to play with. I asked him whether he was going to cry. he said no. Will he quickly go to the loo if he wants to pee, he said yes. I kissed him and all the drill.
Then I stood outside watching him. Another boy supposedly sitting at his table was wailing and grabbing his father.
Jack sat quietly, hands playing with his block but eyes looking at the wailing boy. And I saw tears were welling in his eyes. He tried hard to control it, but still it trickled down on his cheeks. There he was, still fiddling with the block, weeping on his own, in the midst of the chaos in the class.
I wanted so much to go and hug him. But I know that wouldn't be a good move. But I felt like crying seeing him so lonely there. Couldn't stand it any longer, I called out to him. But Jack didn't want to look at me.
I think he didn't want me to know he is crying. Perhaps tak macho nanti? Perhaps he didn't want to disappoint me.
certainly a different scene from last year's first day at school. Read it
HERE
.