Dear friends, muslimin wa muslimat,

Ghozah tahta annar.

Gaza is under fire.

As you all know. To me the whole Muslim ummah is under fire. When I look at saudi and Egypt and Jodan who refuse to do anything, I felt dismayed. Open up your doors and let the mujahids flow in. Show the taghut what war really mean.

What have we done for them today my friends? Please continue to make dua for them everyday. Every fard prayers. Every time we cry when we read, when we watch the TV, the net.

Do what we can. Part some of our money for them. Go read Elisa's for more possible ways to help them rebuild their lives after being ousted from their own country.

May Allah give the Muslims victory. O Allah relieve the Muslims from the Taghut Zionists! Give them patience and strength.


---
There is this place called Z1kreet in the north of Doha as marked pink in the map. It has a very interesting landscape. Rocky desert with rock formation.
It's almost what we learn in the Geography Fizikal before. Eh! Ada lagi ke subject ni sekarang?.
I am still not satisfied visiting this place eben though I have been there a couple of times. I still have not reached the most North of the area. I intend to recce the place and get to know it better. But the last trip we went with some of my good friends here were quite nice.
We found some not-so-wild camels yang telah gave a chase to the pengantin baru. Sungguh lawak. kelakar tak kasi can. And finally when the camel quiet down, it strike a pose for us, turned her back and berak dengan banyaknya. HAHAHAHAHAH. Lagi lawak.
There were wild ostriches as well. They also said ada kandang kuda kat situ. kalau ada rezeki they allow us to naik the kudas. But we didn't find them horses. So Insya Allah next time.
Somewhere in the middle of the Z1kreet district, (N25 degree 34'41.6" E50 degree 50' 47.8"), there is this recently made up arabian village like. This is actually the site that they use to film the movie transformer. Oklah..But of course when you have seen an authentic fort and fortress, this is nothing. But still, it was quite nice.
I had a bit of an argument with the caretaker (can you believe I did that?). One of us on that day can speak arab (menantu Dr. Azhar yang first tu), so he spoke arabic with the caretaker. Then when all of the men went to the mosque (while we waited for our turn, mosque kecik), the caretaker was trying to tell us to do something which was really insignificant in my opinion. And we couldn't comprehend him.
So he mockingly asked why the other guy can speak arabic while we can't. So I tried to tell him in the most broken arabic I can muster,
Rojul. Hua talib fi Jamiah. Yadrasul lughatul arabiah. Nahnu rabbatul Manzil. Lughatul arabiayah shuay shuay.
The guy, he is a student in the university studying arabic. WHile we are domestic goddess. We know only a bit of arabic language.
Then he asked? Hal anti muslimah? Hal anti taqraunina alquran? Ma lughatul fil Quran? Lughatul Arabiah...sahih?
Are you not a muslimah? Do you not read the Quran? What is the language of the Quran? Arabic right?
Nadrasu lughatul arabiah al an. Shuay shuay. Ana maliziah. Arabiah shuay shuay. Aqraul quran ma3a tafseer.
We are learning the arabic now. Slowly. I am a Malaysian so my arabic is slow. I read the quran with the tafseer.

And he said more things in a very mocking manner and I kept saying lam afham. lam afham.
I don't understand. I don't understand.
It was quite heated. The thing is I know he is right. Gimme a breaklah Sudanee. Sindir-sindir orang tak baca quran tu buat aku sungguh marah. Tapi actually the more I write it here, the more I feel stupid knowing that he is quite right. Tapi having said it to the face and senghaja menjatuhkan maruah aku macam tu, marahlah gua. Dahlah tu I am a tourist. Bila datang omputeh pandai pulak ko cakap omputeh. Grrrr
The rest of the ladies terbeliak mata aje tengok aku bertekak. I know I know, sometimes I do get carried away. Tak kesahlah tau bahasa ke tak. My bad..tapi marah tau!! If I can quoote that verse that human are made of different types and cultures so we can learn from it I so will.
There is this place called mystery valley. memang nampak macam mystery lah jugak. There were like some old ruins of things on the hills. And we were there masa nak dekat maghrib. Rasa eerie pun ada gak.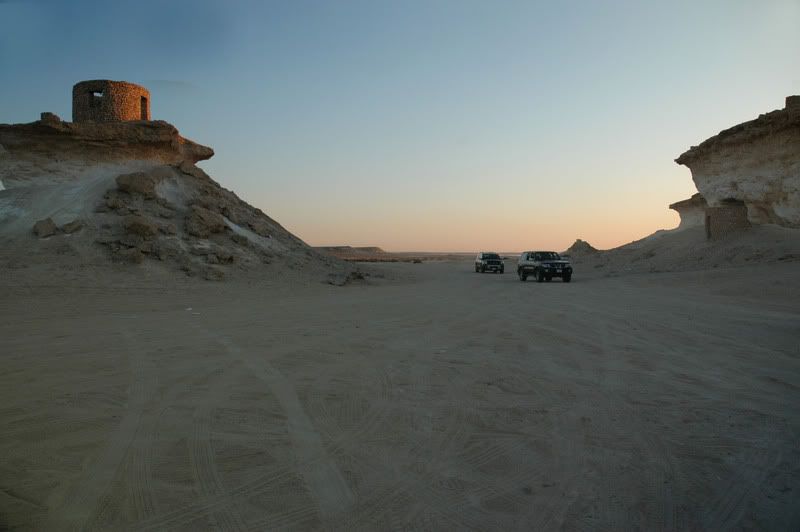 We played at the beach there or rather the kids played while the bapaks and some maks err tidur. Not together though. The beach scape was rather strange. Very rocky and ouchy on the feet. I suppose quite good if you like reflexology. But Haziq fell on it, biasalah kelam kabut gamaknya, and bled really bad. Alhamdullilah we had first aid kit. So for those going for traveling jangan lupa update your first aid kit box or if you never had one, do get one.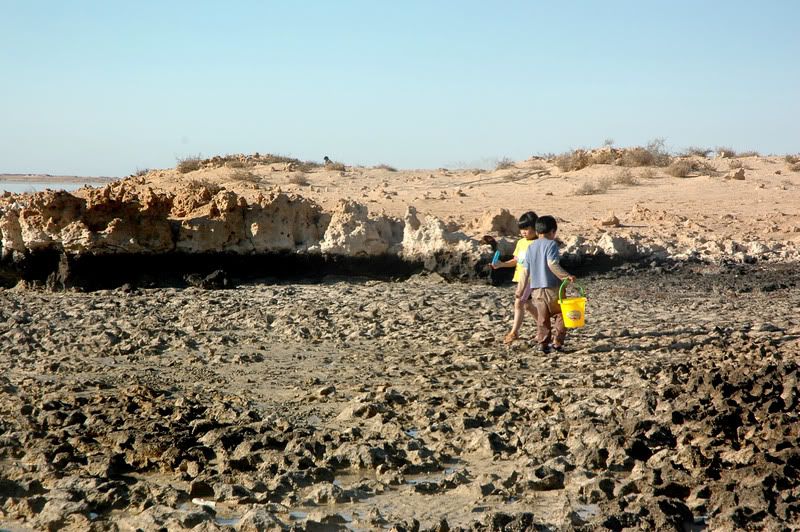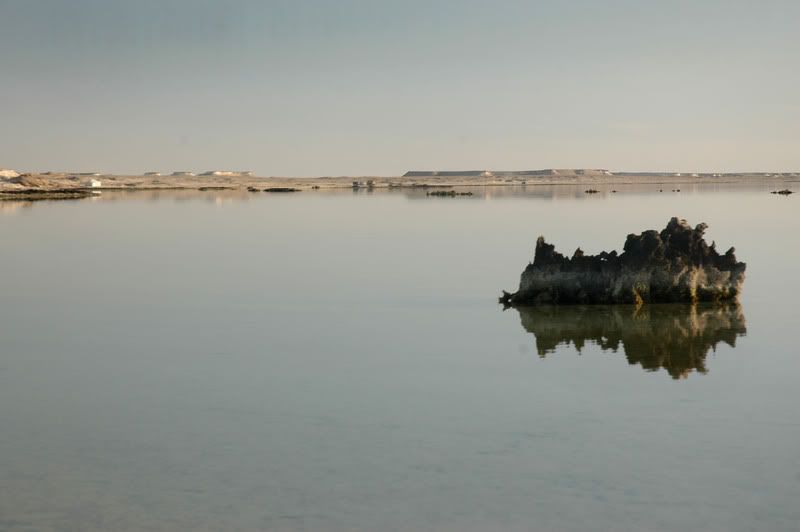 We went back past maghrib and it was absolutely dark. Slightly difficult to get a good route to get back. Almost all routes that we took were blocked by higher pile of stone. Pakai GPS on a non-existense-road route is not easy especially when it is totally dark. When we finally saw light, we knew we were nearing but we could not access it. So near yet so far. Alhamdullilah the groups who were with us memang gang outdoor. Getting lost is good, sah?
A must go again this one.
More pictures on multiply
HERE