Asir - jus
Over here, and also many of the arab countries, they have wonderful small juice stall. And in this juice stall they sell, surprise surprise, juice. Well they sell other snacks too like burgers which resemble sometimes the popular brand. Hmm perhaps another entry that one.
And the juice is simply simply best. Sebab pertamanya they don't dilute the juice. Mostly it is pure pulp. And they don;t use ice cubes. When they do use ice, it would be crushed ice together with the pulp like ice blended. But still the taste of the real juice is there. Tell them you don't want ice if you wish.
And the options even in one shop sungguh membeliakkan mata. Mana satu nak pilih ni?
Mari saya tunjukkan a typical menu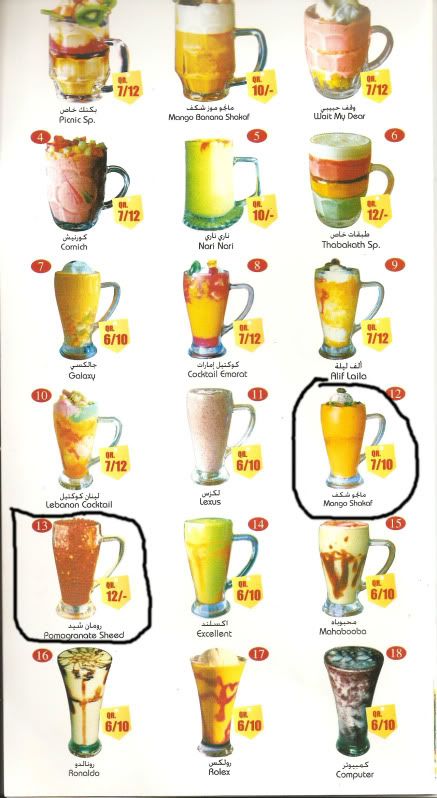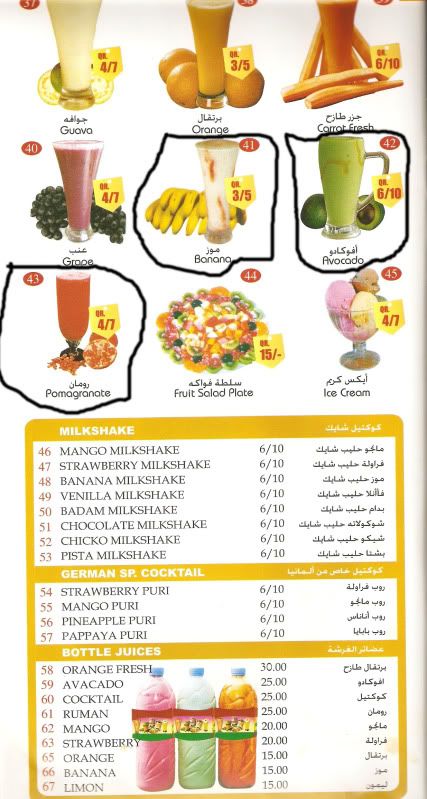 Boleh pilih nak yang biasa-biasa macam shakes. Or mango juice or banana juice. As for myself if I am feeling a bit heavy and tak nak creamy stuff, I would choose promeganate juice (buah delima).
Otherwise i would order avocado juice. Which typically they would squirt a bit of honey or chocolate. Or I would order abood. Honey dew mix with milk and ice cream i suppose. Or chickoo juice or what you would know as air ciku. Serious sedap.
Kalau tak adventorous you can always order banana juice, mango juice, water melon juice, guava, carrot and orange juice.
Or be like my lover. he always pick the strangest looked drink. Yang paling colourful. Yang paling berbelang. Dan saya akan pau air dia kalau rasanya sedap
The price differ from shop to shop but typically it is QR5 for a small mug (which is enough for me). But my lover would choose a big one which is typically QR10. Kalau minum avocado in a big mug perut kembung dan kenyang gila.
QR5 is really ok considering the juice is very thick and rich. Of courselah kalau beli kat kedai mahal like the Mandarin, a big cup is QR18. And rasa pun sedap. Tapi bayarlah QR18 macam tu. Sebolehnya kalau orang kedekut macam aku, I only buy at the small juice stall yang mostly run by Indians over here. murah and sedap. that's the way to buy things.
The taste as expected, differ from one stall to another. I have a few favourites. I personally think the one at tasty king, salwa road serve great juice. So far yang saya order tak menghampakan. And same goes to tasty bell kat west bay petrol station. My husband drinks his avocado kat najma. One of the petrol stations. Somewehere near navigation plaza. Memang betul sedap.
So agak-agak korang nak order yang mana?