Praises go to Allah whom has made it easy for me and my husband to go through one of the most important and demanding ibadah.
One of the things I asked Allah was that he made it easy for me. And syukur to Him, that I didn't find things too difficult or perhaps He made me see difficult things easy. Allah knows best. One of the things I asked also to take care of my heart and my children's heart so we don't suffer throughout this separation.
Yes I cried and they cried when I finally bade farewell. The Fath's children cried too. Loi Loi who didn't cry exclaimed, "I feel like crying". Sya was the one most affected I must say. Haziq and Jack cried quietly.
However, Alhamdulillah, when I was there and each time I made calls to them, they seem ok and cheerful. Sya would blabber about her good marks and Haziq would sound like a robot and replied each time without fail that he is doing his homework when I asked him what he was doing. Jack would always rush through the conversation telling me that he has to go either to poop or pee or play something important.
This is in contrast to some other mummies with young children in my room. I shared with nine others (all Malaysians). The kids would be crying. This will be followed by the mum and there would be lots of consoling and more cries. And we mothers would console each other.
The build up towards hajj days get even worse. When even the idea of death are raised by the children. Its heart wrenching. Truly as the days to the actual hajj days (nearing 8th Dzulhijjah) became nearer, I got more nervous and I suppose everyone was. And the cries from the children affected the moms greatly.
I contemplated to call my children. I did anyway just because I am a mother who likes to trouble herself.
But my children are just the same happy children. Sya blabbered. Haziq doing his homework. And Jack was playing.
I received reports from my friend concerning my children through sms and Alhamdulillah, the reports confirmed that they are doing fine. I was relieved even though I did ask myself, aik tak rindu ibu ke?
But on a bigger scale, I think it helped me through Hajj. It made my heart content and it helped me to stay focus. Despite wondering whether they rindu me or not, I thank Allah that I don't have to spend my time with extra crying worrying about my children.
So I came home yesterday at 4 in the morning. The Faths picked me up. I told them not to wake the kids yet for they have school that day. Mr fath sent them to school as usual. I told him not to tell the kids that I am back. I had to go all the way and tell other mummies not to tell my kids and also their kids that I am back. So that they won't spoil the surprise. He he. I am going to surprise them when I picked them up in school later.
I almost had butterflies in the tummy waiting for afternoon to come.
As i walked through the school compound, I bumped into haziq first who greeted me with a shock and calmly hugged me tight. He looked a bit cengkung in the cheeks. He also looked almost adultish. I can almost see his strength in shouldering responsibilities.
By the way, I was told by my friends later, how he handled the incident of Jack falling. Jack fell down. He didn't break his crown though. Just perhaps a little scratch and a bruised ego. Haziq rushed to him. Asked where he is hurt. Sya also came to him. Then Haziq picked him up and carried him to the bed. Sya put a blanket on him. They consoled him. Then Jack slept.
Jack woke up one hour later as cheerful as ever. Haziq told me this fact.
I am proud of Haziq. I think he really took in the role as the big brother and handled his siblings well. I asked Allah to blanket him (and my children) with hidayah.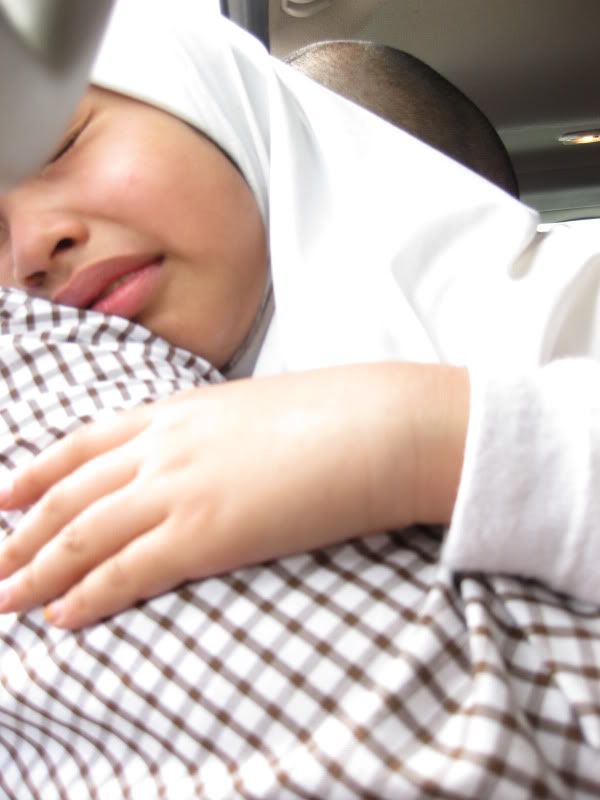 Back to the surprise pick up story, Sya came around a few minutes after and upon seeing me already have tears in her eyes. I opened my arms and she hugged me tightly and cried.
I made a special doa for Sya. Because I think of all my children I am probably hardest on her. Perhaps I have certain expectations, she being a girl. I don't know. Or perhaps I worry that she will be like me. And just like any parent, I want her to be better than me. And she being a girl, I expect her to embrace knowledge even more. But sometimes, I am too hard on her. Even though I do not want her to be like me, I treat her like as if she is me. *shameful*
I hugged her and kissed her and told her I love her. I am happy to see my girl who is still little. I wiped her tears and said I am here with you. Took her hand to go for Jack.
And Jack. He saw me and ran to me and jumped on me and basically was stuck on me for a long time. These all happened in front of his teacher. She actually said to me, "Finally!" as if she is so relieved. She said, Jack is less focus and not as cheerful. Ya ka tu?
And that night, we had dinner at Faths. Jack who was so busy playing, intermittently came to me either to report how well he played, or how he kept losing, or to kiss me, or to hug me or just to touch me.
And another round of tears from the children when they hugged their father.
Rindu jugak dia orang kat ibu dia ya.
Our hearts and prayers go out to the children who lost their parents. May Allah preserve them and protect them and replace them with something better.