So now Haziq has advanced his Quran reading. Alhamdulillah. I have been s l o w l y teaching him the Quran. I am not a patient person thus an impatient teacher. Pity Haziq. Hope he can thank me one day.
However, I have decided to send him to the mosque from now on. I think it is time for him to learn from a better qaree. In the hope that his tajwid would be further refined, dengan mahraj yang lebih betul segala, better penghayatan, lebih berkat dan bacaan yang lebih sedap di dengar. This has been my nawaitu, my intention from the very beginning. Once I am happy with his reading, and when I do find a good Qaree, I will send him off. So would be the rest of the children, Insya Allah.
Ustaz said his tajwid is quite good and asked where did he learn before. Walauweh kembang seh (And thus empty barrel makes the most noise)
His class is on Sunday, Monday and Tuesday. Our usual Quran reading time is every weekdays (Sunday-Thursday are the weekdays over here). I told him don't you think you can escape from my clutches.
Muahahaha. Evil laugh while rubbing palms together.
He would still need to recite the Quran with me on Wednesday and Thursday. I am hoping to tap his newfound knowledge. Tee he he I have other programmes with him on Sunday-Tuesday. *Insert more evil laugh.*
You see I found this great board game from Goodwordkids. Its called JUNIOR QURAN CHALLENGE GAME! And O.M.G it is really a great game. It is a board game with a stack of cards filled with questions about the Quran. Syiok gila. It is a shame to say that I couldn't answer some of the questions from the cards. *hangs head low* but because I am the champion of the house I win all the time. Err lover has not played yet. He is working. Peduliklah. I champion!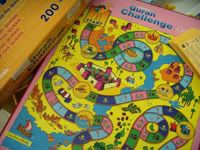 I believe Haziq learned a lot. For some of the questions that he is familiar with or the one that I have reference on, I will narrate to him on the following day. For difficult ones like why 7 for certain rituals, err ask ustaz.
I am eyeing their QURAN CHALLENGE GAME with 600 questions after this. Bila dah khatam beratus kali the game.
Go check out their website for other cool stuff they are selling
HERE
. But I didn't buy the games and books here. You can get it in MPH or most bookstores.
Meanwhile try these questions
Name the city where the angels Harut and Marut were sent?

Which prophet was sent by Allah to the Ashab al-Ayka (the people of the wood)?

When Allah made the dwellers of the cave fall asleep, an animal stood there constantly at the threshold. What animal was that?
The only slack was they did not put the reference ayat in the answer.
---
selingan semata
Berapa banyak bintang di langit kau kaji
Engkau hafali ya Sahibul Kahfi
Tak akan sama bintang yang satu ini
Yang engkau kenali didalam hati
Terang walaupun dia tersembunyi
Cemburukan matahari
Cahaya berseri-seri
Jika engkau kenali
Kita ditakdirkan lari
Jauh dari kezaliman
Terperangkap dalam gua ini
Hingga masa Tuhan tunjuk kebenaran
Mari ikut rentakku
Rentak tari dulu-dulu
Lagu marhaen sederhana
Di sini tiada duka
Terima saja dengan redha
perananmu dalam dunia
Kerana pegangan engkau hadapi
Dugaan ini ya Sahibul Kahfi Kamil
Kalimah kebenaran telah zahir
Tak usah kau ragukan
Kita datang dari Dia
Kita pulang padaNya
Banyak ayat mujarobat
Bisa menawarkan luka
Namun penyakit jiwa ini
Tak bisa di tawan tanpa penyerahan.