It was suppose to be the ASS sports day yesterday. I woke up early, made french toast for the fardhu ain pot luck. Then siang the dried chillies, boiled it and all. I was going to make fried noodels. Got the spaghetti boiled, sawi ready, cabbage, boiled the diced meat, thawed the big prawns. Then I started frying the chillies in my big pot. I don't have a big wok to fit in 1kilo of spaghetti.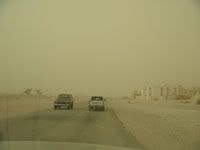 A phone call came in. We had to cancel the game for there was a bad sandstorm that day. Looking at the yellowish sky and sand dust everywhere, any outdoor event is not a good idea. Now I have boliled spaghetti and boiled meat and sianged sawi and cabbage.
Many are ready with their pot lucks as well. So instead of a full fledge sports day cum makan-makan, we had an indoor potluck and a miniscule sports game.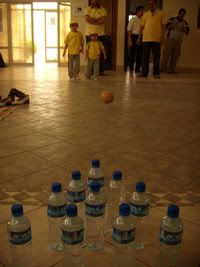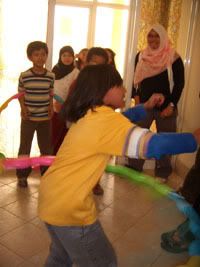 Now those teams can be afraid looking at the talents. Some are discussing of import players, swapping teams and jesting each other house colours.
Someone commented that I look fatter.
Went home feeling fat. Looked at the boiled spaghetti and cooked fried noodles and ate full plate of them.
Mee bandung for lunch today. If I want to be fat, let's do it in style.