I had been busy this week. Busy entertaining my first ever guest of honour,
Elisa
. As some of you may know she was here for a short five day stay.
I was worried at first when she wanted to come over and what more sleepover. Surely you have heard how terrible my harem is. No garden, plywood as walls, tiny ugly toilet and not to mention messy as well (my doing). So of course I malulah kan? Apa rumah expat ini macam ka? But most of it is not my doing, so I said I don't care. Well I do care but not that much to not get Elisa over. Tee he he.
And without realising it, it was already Friday. It wasa bonus actually because initially they wanted to leave on Thursday. And on the last day I got a mail, hand delivered. Well not me actually, rather it was Haziq.
And in the letter, Ilham, ELisa's eldest son wrote "Thank you haziq, Patrisha, JackJack and their parents". Awwwww isn't that sweet?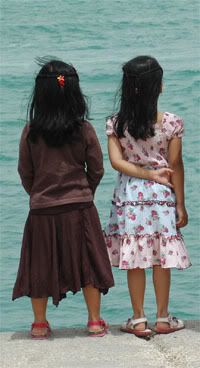 As many of you know already all Elisa's children are great and they helped make their parents trip easier. My children enjoyed them tremendously. Haziq and Sya miss them a lot. haziq said he has gotten used to them sleeping in their room. Sya wanted me to print Izani's (Elisa's little yummy baby)picture. Batrisyia and ANis (Elisa's only daughter) are almost alike. When Anis wore Sya's night clothes, I nearly got confused between them two.
I was wondering where should I take them though. Nothing much in Doha to see. But we did go to waqif's souq. Another entry perhaps. We went to the wakra beach. Took a dhow at the corniche. The kids played at amusement park in the mall and did ice skating another day. I am so determine to explore Qtar more next time because I am demanding a revisit.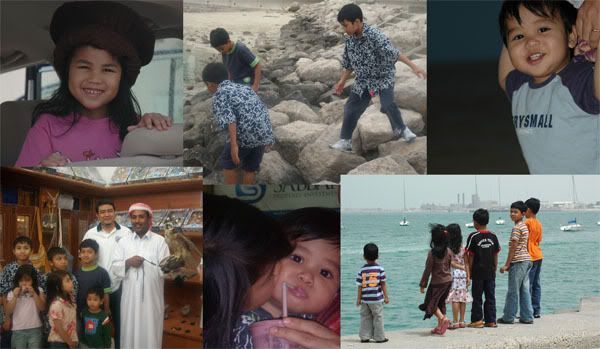 I enjoyed them coming over here. It keeps my mind and time happily occupied. Its a different feeling you know having someone over. We started off as internet friends and now, I don't know, I feel that we are almost a family. Kita dah sedara dah rotidua. Muahahahaha!
I am glad you came over. I enjoyed your company tremendously. I am only worried that I didn't do much for you to enjoy your time here.
And that new abaya you got Elisa, certainly rocks!
Here is a favourite photo of mine, for Elisa, perempuan melayu terakhir. Rindu trengganu tu gamaknya.