Lover turned 38 last 4th May. We wanted to celebrate it but something always crop up during the weekends. Our celebration is of course just eat eat session at a slightly finer restaurant than usual eat out.
We don't have much time during the weekday because of Haziq's ngaji classes for three nights, squash lesson and usrah. So the very the busy.
We wanted to go last Saturday but on the very last minute someone called us inviting us for dinner at their place. I was to the point of hoping and hoping that nobody call us for dinner anymore. At least until we get to go to this eat eat session.
You see I was very excited this time round. Pssstt I bought him a present. Ha ha macam bagus. I didn't get him any last year. Actually it's a bit of cheating since I am earning with his money but then it is mine now kan? And oklah since I am not really earning lots, the present was not much. But I was excited nevertheless. Like a high school girl I was.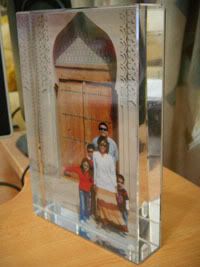 I got him a picture frame. A simple one. A male looking frameNo frill. But a designer one you know Cik Kiah. Well at least I got it from Zara Home Collection. This one is for his office. I printed out a picture of all five of us, which was difficult to choose because there were not much photo of us. Apparently we rarely take family photo. That must be because I am frigging' lazy to take the tripod out. Perhaps I will take a better one later later much much later.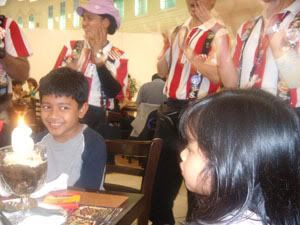 We finally get to celebrate his 38th birthday today. I quietly told the waitress to bring out a small cake and sing their happy happy song they often sing for the birthday person. The kids were apa lagi. Delightedlah.
Over here certain restaurants have that birthday sing a song service. In Apple Bees, the cake is free of charge. We had one for Batrisyia the other day. TGIF charges for their cake though. Eh do we have this in Malaysia? I don't know actually. Tak pernah tanya pulak. But the one they have here is really noce because they sang not really the conventional happy birthday song, but some other happy song and some made up lyrics, still on birthday. And they would clap loudly and made the whole thing so vibrant and kecoh.
I gave him the present. He was happy and will definitely put it in the office. yayy. Then he spent the night analysing when and where did I go to get it. After sometime, he asked Haziq. My lover is not as anal.
Now I am a happy happy girl. Discharging unused egg is also over.
So over and out peeps.