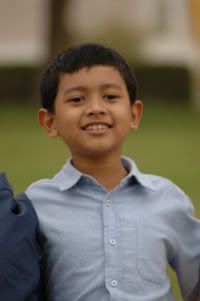 A few weeks ago everyone in Haziq's school was given a task of collecting donation to raise fund for the school's intersports uniform. The incentive was, whoever manage to collect the highest donation will have a treat of one hour jumping in a bouncy castle sponsored by the school.
I told Haziq to bring his form to the Fardhu Ain class on Friday. He was a bit nervous and shy to ask from the "uncles" despite looking excited the night before. I told him to pick on one uncle that he is most comfortable with, which he did. The rest was a breeze. Coincidentally on the very same day I was invited to eat eat session for both lunch and dinner. Haziq a little bit courageous, brought the form as well and collected more donation.
I am very proud of him. Be cause really if it were me I would have shoved it to my dad and ask him to get it from his office friends. Actually I wanted to do that for Haziq but decided to drill him first before he grow up and get the idea for himself.
The other thing was he set the precedence. After seeing Haziq talking the uncles to spare some change in the name of school donation, his other friends who are also in the same school did the same too. The little one asked Haziq to help him be the spokesperson. Not that Haziq is a good sales man though. he just said, "Uncle dia ni pun nak donation."
Anyway surprisingly Haziq collected the highest amount in his class at a mere QR250. I was surprised. I expected more from the richer kids in his class. Haziq said some did not even come up with any money.
So haziq get to jump his heart out for one hour under the hot sun on the bouncy castle. The thing is he can bring ONE friend, only ONE to jump silly with him.
And that is his dilemma. He doesn't know who to choose. Many come up to him pleading to be chosen. Those closer to him said something wise, like "Chose wisely" or "Never give promises that you cannot make." Some keep on asking him who he would choose. Someone called him yesterday asking him whether he has make up his mind.
Haziq is totally boggled. I asked him yesterday, in the attempt to be the wisest person he knows, to narrow down on people that he would really really have fun to play with. After a KFC lunch and a lot of running with his siblings in the mall, he said he has come down to two. But he couldn't make up his mind.
I suggested him to ask his teacher whether she can make exception and allow him to bring two. I doubt it'll work but I think it is worth trying anyway.
Then I said if it fails perhaps you can ask teacher how much did the two boys collected for the donation and perhaps you want to reward to the one who has the highest.
If that doesn't make him happy, he can just follow his guts.
Haziq is not as anal as I am. I know these two boys one is in the same nerd group as Haziq is. Oh yeah Haziq is in the nerd group. the one who is doing well in maths and all. The other one is the one who plays a lot and Haziq seems to be playing alot with him lately. So much that his schoolwork drop. Haziq's teacher was worried about Haziq slacking sometimes early last term and has identified that Haziq is very distracted with this boy playing in class. We both concluded that he is tired of being the goody in the class and wanted a wider range of new friends.
So I don't know. I told him to make special doa to seek for Allah's guidance for him to choose. I told him to stick to his decision and know that he makes the right choice.
I also told him to relax, don't be boastful, be humble to those not chosen and HAVE FUN!
I am so anal. I can't wait to know who he would choose.